Bulls continue to hold their ground, albeit hesitantly!
While the Nifty did close at an all-time weekly closing high, the momentum was lacking! Nifty rose 1.13% for the week while the broader Nifty 500 rose 1.14%. The Sensex clocked an all-time high during the week & was up 1.11%.
NIFTY PSU BANKS, METALS, IT, AUTO & NIFTY BANK were the star of the week while ENERGY, MEDIA, FMCG, INFRA & PHARMA lagged behind!
Interestingly, none of the mid & small cap indices have been able to close at an all-time high this week!
IndiaVIX has further cooled off by 9.66% for the week at 13.3675! It is now even below the levels last seen before Feb 21. The lowest it has been was in DEC 2019 at 10.52. You can clearly see in the chart below what happens when VIX gets too low!
Remember, the volatility is mean-reverting. Meaning, Low volatility period is followed by high volatility & vice versa. So keep a close eye on this one!
As far as the charts are concerned, Nifty remains bullish!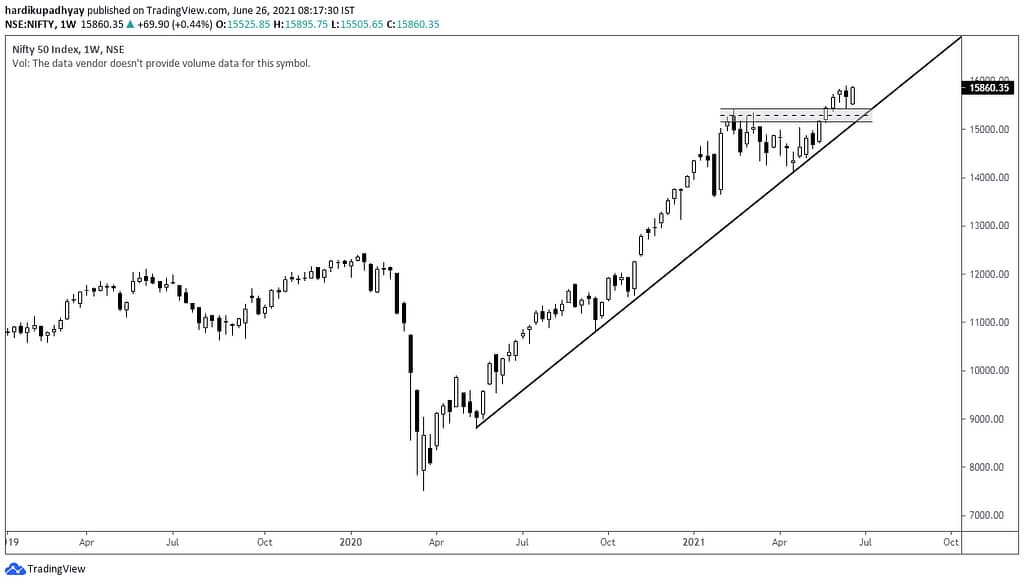 Nifty has maintained its higher top, higher bottom pattern on weeklies. As long as we're above the demand zone between 15430 to 15163, the bullish party shall continue!
However, if we close below the trendline, things could get out of hand really quickly!
So stay safe, health wise & money wise!
Have a great weekend!