Bulls seem exhausted or are they?
After closing the month above the previous ATH in May, markets struggled all through June to make any headway!
Nifty closed up just under a percentage over last month at 15722.2. Nifty 500 closed the month 1.87% higher at 13473.55.
Sensex also surpassed previous ATH but refused to close above it. Indix VIX further cooled off by 7% for the month.
NIFTY IT, CPSE, FMCG, PHARMA, MEDIA & REALTY outperformed Nifty while ENERGY, METALS, BANKS, FINANCIALS, AUTO underperformed.
The headline indices were subdued during the month but not the broader market! Mid-cap & small-cap indices are on a tear with most of them gaining 3-7% during the month.
Let's see how the technical picture looks!
As you can see that the Nifty has managed to close just above the upper trendline but the follow-through hasn't been strong in June.
In fact, June has had the narrowest monthly high-low range since December 2019! Incidentally, IndiaVIX is also almost at December 2019 levels!
We all know very well what followed thereafter!
The current market action has many similarities to the pre-covid environment.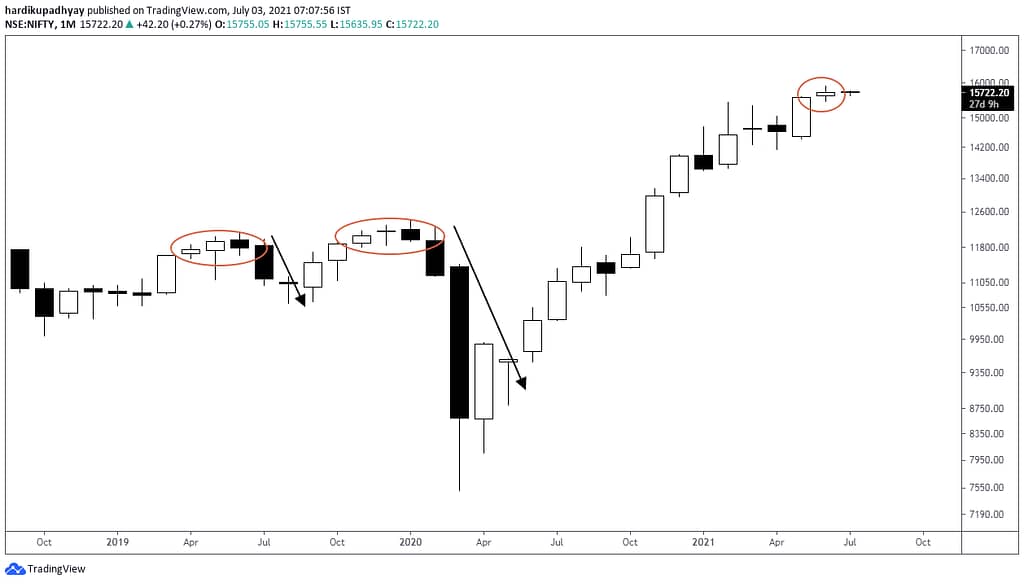 The only silver lining is that, unlike the previous market top, this rally is broad! Meaning, the small & mid-cap indices have also participated in this rally!
However, small & mid-cap indices cannot keep the major indices up! It's the large-cap heavyweight stocks that determine the direction of the Nifty & Sensex.
So in a nutshell…
Nifty has had the narrowest range since December 2019.
India VIX is almost at the December 2019 level.
Sensex continues to underperform as compared to Nifty. We had discussed here how the ratio of Sensex divided by Nifty has been historically a leading indicator for impending corrections in the market.
Nifty is at the top range of the channel.
These are all just warning signs! But the bullish regime can only be seriously challenged if we are below the previous peak of 15430.
My advice: Keep your eyes & ears wide open! Don't get carried away by the euphoria in small & mid-cap stocks. Have strong risk management in place. Review your trading plan & make sure what would you do if the above bearish scenario does actually play out!
Until next week!