Drawdown times!
Just as we hit a century last week, we're facing this drawdown thanks mainly to Adani Group & Metals!
The Hybrid Model Portfolio is down just a little over 7% from the all-time high registered last week..
On Monday, the Economic Times came out with unconfirmed news that the NSDL has frozen 3 FPI accounts that were holding large no. shares in Adani Group. Not surprisingly, all the Adani Group shares tumbled between 5-25% intraday.
I had to take an emergency exit in Adani Ent, ATGL & Adani Transmission!
I usually avoid stocks that have 5% circuit filters for the simple reason that when there's a reversal in the trend, it's very difficult to get out!
This is a great example of discretion combined with systematic investing. The majority of the time we should never second guess the system but in extraordinary times like this, your discretion plays an important role.
I allow for a little bit of discretion based on my experience & skills in a situation like this.
There are no right or wrong ways!
The right way is the way you feel most comfortable with!
Having said that, the role of discretion must also be built into the system. It must be predetermined where & under which situation will you override the system.
When it comes to trading in the markets, it's very important to understand that we're not dealing in black or white but grey! No matter how good the system is, if the person executing the system is not comfortable, he will screw up.
Remember, our primary goal of investing in the capital markets is to beat inflation & FD returns! The returns earned over inflation & interest rate is the bonus!
I have quoted Morgan Housel, the author of The Psychology of Money many times & I will quote him again…
…the most important question to answer as an investor is not, "How can I earn the highest returns?" It's, "What are the best returns I can sustain for the longest period of time?"
Anyway, let's have a look at the actual 10 stock model portfolio established based on the Hybrid Investing Approach!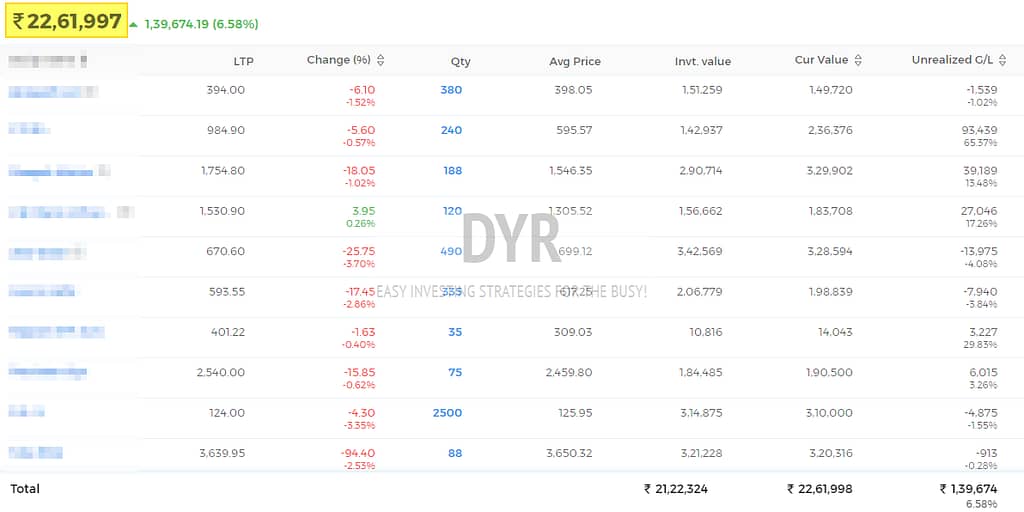 The total portfolio equity at the end of the week stands at Rs. 26,57,492.69 ( 22,61,997 + 3,95,495.69). Overall, the Hybrid Model Portfolio absolute returns stand strong at 85.84% since inception on 30/06/2020 on a total investment of Rs. 14,30,000.
The Nifty has risen by 52.23% during the same period while the broader Nifty 500 is up by 57.95%. The Hybrid Model portfolio has handily beaten both indices.
The portfolio has grossly underperformed indices this week!
Let's see how it fares going forward!
Until next week!