Bulls are back!
Or are they?
Let's find out!
As mentioned in the yesterday's issue of the Daily Game Plan…
Finally, it seems a short-term bottom is in place today!

Although Nifty ended below 11300, it is oversold going into Thursday and we can expect a rally up to 11437-11507 zone over the next one or two days!
We were bang on!
The Nifty gapped up and went on to go as high as 11464 before settling at 11449 or 170 points up.
Although, it is important to note that more than half the gains in Nifty were contributed by "Mota Bhai" or Reliance which rose to all-time highs and closed at 2314 or 7% up.
I had mentioned in my 27/08/2020 issue of the Daily Game Plan…
Reliance had been consolidating since the last one month in the zone of 2000-2200. A break above 2200 will be very positive for the stock as well as for the Nifty as the stock controls nearly 14% weight in Nifty.
By the way, Reliance has been part of the DYR Dual Momentum Strategy for the last couple of months!
So what's next for the markets?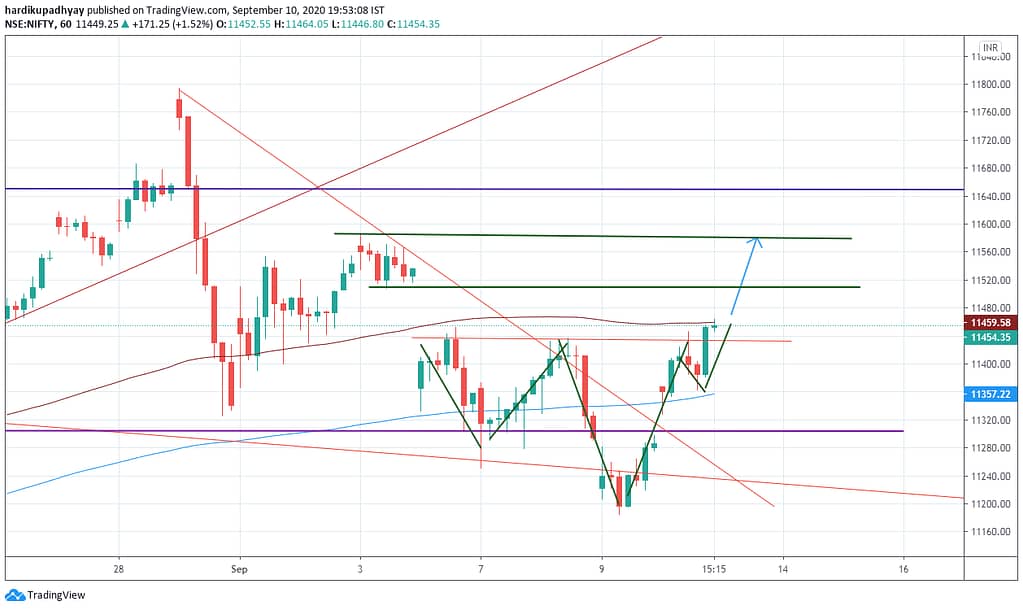 Looking at the hourly chart of Nifty, we can see that it has formed a head and shoulders pattern.
The Nifty is trying to retrace some of the losses it had in the past week and we are looking at a rally up to 11507-11585 zone. The bullish trend will only resume if we are able to close above 11650 on a weekly basis.
Let's see what happens!
I am cautiously bullish!
Here's the list of stocks for tomorrow's trading as per my Swing Trading System. You may choose to enter a limit order of 2-3% below/above the previous close.

I have open positions in CANBK, JSPL, TATA MOTORS, and BHARAT FORGE from yesterday and the day before. Out of these, CANBK, JSPL, and TATA MOTORS have triggered exit and I'll be looking to exit tomorrow at open.
Have a profitable day tomorrow!