What a day it's been!
After rising over 200 points, Nifty gave up all the gains and closed just 10 points up.
IT stocks and Reliance AGM was the showstopper for yesterday's session. Wipro and Infy were the star performers by rising 17% and 6% respectively. Infy has also announced an excellent set of numbers post-market but I think the news is already priced in. Nifty IT zoomed up by 5.2%.
But the real drama happened after the reliance AGM. Reliance after hitting a high of 1978 came down crashing up to 1798 and settled at Rs. 1844. There was no clarity on Aramco Deal which market participants were eagerly looking for. The stock has been overhyped and was due for a correction. I have seen Reliance stock showing intraday reversals on earnings and AGMs more often than not.
Reliance has traced out a key reversal bar on daily charts and is likely to go into a correction. it will have to maintain above 1785-1790 zone for it to continue it's upward trend.
Nifty just touched the upper trend line of the wedge and pulled back during the day which is a clear sign that the bulls are cooling off.
We might correct upto at least 10350 below which we may see a bigger correction.
For now, as long as we remain above 100 DMA at around 9800, the line of least resistance is up!
Here are the Most Oversold & Overbought Stocks based on my Swing Trading Strategy. One can look to buy these stocks on intraday pullback of 2-3%.
Most Oversold Stocks: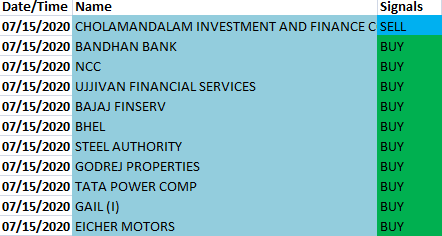 Most Overbought Stocks:

Have a profitable day!