Nifty continued its upward march despite many bearish indications. This rally looks like turning into a euphoric rally which is difficult to sustain.
Nifty faces significant resistance in the zone of 11244-11350. It's highly overbought on weekly basis. 10850 is a strong support for the rally to continue.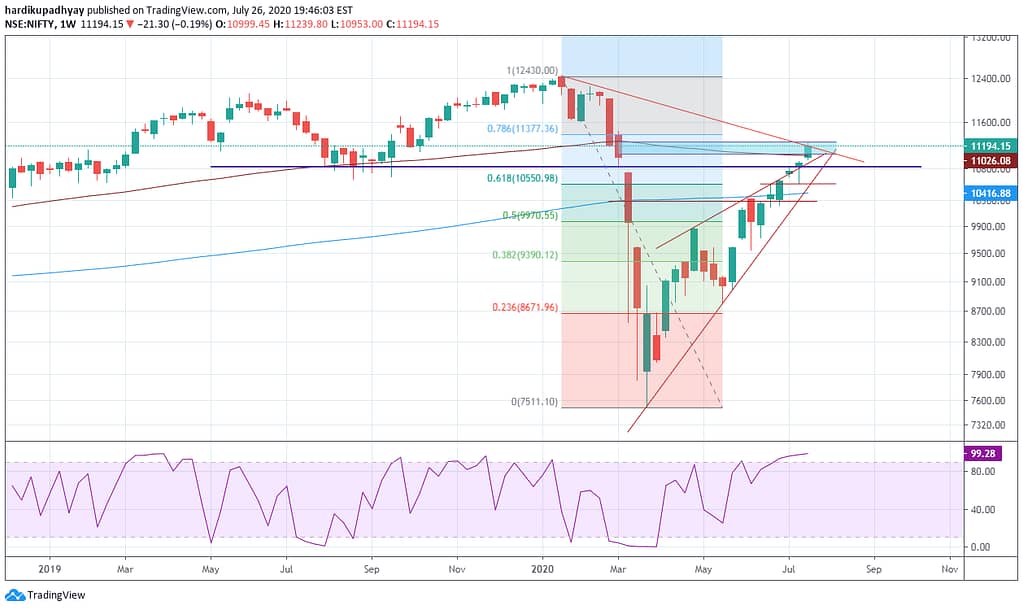 Nifty Bank was going strong during the week but gave up some of the gains and closed up 3% at 22662. It looks like a shooting star at the previous highs. For Nifty bank, the 22000 level remains extremely crucial. In the coming week, we have results reaction from ICICI BANK. Kotak Bank & HDFC are going to announce their results which keep Nifty Bank on edge.
Reliance is going to announce results on Thursday which will keep the markets on toes. Reliance has been a significant contributor to the rally from March lows. Reliance is up 12% during the week which in my opinion has already discounted the expected results. In my experience, RIL reverses the gains after the announcement of results as the price has usually run-up. A typical case of Buy the rumor, sell the news! Let's see what happens.
I remain cautiously bullish!
Here are a few oversold/overbought stocks based on my Swing Trading System.
Here is the watchlist of oversold stocks on my Weekly Swing Trading System. You can look to ee on an intra-week correction of 3-5%.
Below is the most oversold stock based on my Daily Swing Trading System. You can look to enter on intraday correction of 2-3%.
You can check out weekly real-time performance review of all my strategies.
Have a profitable week!