Markets continue their upward journey!
Nifty at the beginning of the week saw some profit booking at higher levels but reclaimed the highs by the end of the week.
Nifty made a new all-time high during the week and ended up 0.82% at 15799.35. The broader Nifty 500 outperformed the Nifty and closed up a good 1.27% at 13563.85.
The Sensex has also hit a new life high but hasn't been able to close above the previous peak.
This divergence between Nifty & Sensex is a cause of concern for me!
Below is the chart of Sensex & the ratio of Sensex divided by Nifty 50.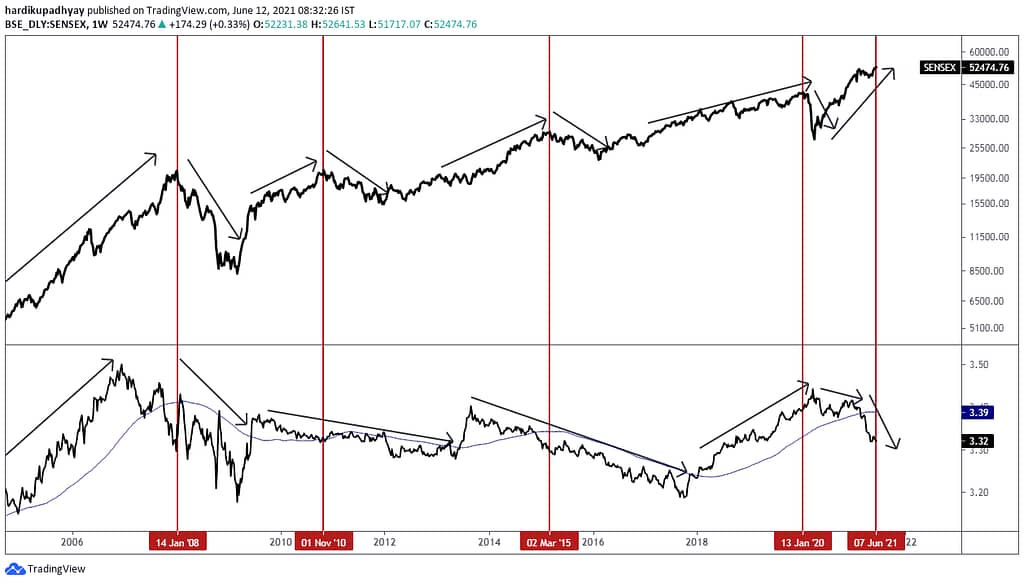 We can clearly make out from the ratio chart above that Sensex outperforms Nifty in bullish environments & Nifty outperforms Sensex in bearish environments.
Why?
While one can argue that Sensex outperforms Nifty in bull markets and vice-a-versa because it has only 30 stocks while the Nifty has 50 stocks.
Well, there's surely some truth in that argument! There's a significant overlap between Sensex & Nifty stocks. The contribution of the top 10 stocks in Sensex is 68% while it's 58% in Nifty. So we can surely say that if all the top 10 stocks go up or down, Sensex will move up/down more than the Nifty.
But that hasn't been the case recently! The Sensex has barely touched the previous peak while the Nifty is almost up 3% beyond its previous ATH.
Another important thing to observe is that the Sensex has also been a leading indicator of the impending corrections in the markets. As you can see, the ratio peaks out way before Sensex actually peaks out. I have marked Sensex peaks with Red vertical lines.
Have a look at where the ratio is at currently! The Sensex has made a new high but the ratio is making lows.
Couple that with IndiaVIX!
As you can clearly see that the ratio of Nifty divided by India VIX is almost at pre-covid levels.
However, broader markets are on fire. Small & Mid-cap indices are at new highs but there are signs of excesses.
Rising tide lifts all boats even if some of them are leaking!
In recent weeks some of the stocks like DHFL, JP Associates, ADAG which were officially dead have suddenly come to life.
That has prompted exchanges to increase margins on many stocks upto 100%. Some of the high-flying stocks have been shifted to trade for trade settlement to curb speculation.
I'm not suggesting it's an end of the world!
But do keep in mind that…
Making money in bull markets is easier, keeping it in bear markets is much harder!
So keep your eyes & ears wide open for any signs of trouble!
Check your risk management systems!
Until then, enjoy the party!
Have a great weekend!
---
P.S:
A gentle reminder!
Your 50% discount on the Hybrid Approach Guidebook ends in 3 days! Just so you know, this is the lowest price I have ever offered. From 15/06/2021 onwards, the normal price will be more than double what you'd be paying now.
If you're interested, but you haven't had the chance to sign up, now is the time to pull the trigger!
Here's the discount link:
https://www.instamojo.com/howtodyr/dyr-hybrid-model-an-ultimate-guide-to-multi-/?discount=may50
If you have any questions, write me an email at hardik@tradingwithdyr.com.
All the best!