It was the day of consolidation ahead of important announcement on the policy rates by the RBI tomorrow at 10.
Both Nifty & Nifty Bank closed marginally up.
I expect RBI to hold rates at it is seen that despite the rate cuts to the tune of 1.15% since February, the transmission by the banks has not happened as much as RBI would have liked. So, it's also possible that RBI would like to wait for more transmission of the interest cuts to happen before they further cut the rates.
Technically, Nifty faces significant resistance at 11250-11300. Once it clears these levels it can easily climb up to 11433-11536 zone.
Any failure to make a new high will be negative as it will break the ongoing higher-high, higher low pattern. Tomorrow's decision by RBI will decide the fate of the bulls.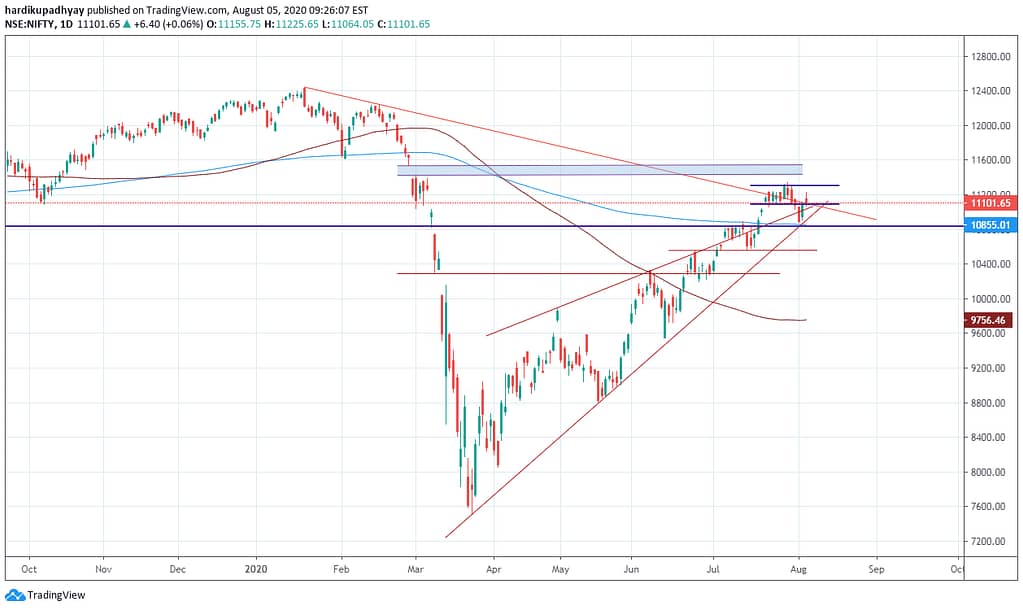 As long as we're above 10850, the line of least resistance remains up!
Tomorrow, it's going to be the day of Nifty Bank. It's trapped in a broad range of 21000-23000. The close above 21950 will fire up Nifty bank up to 23000. Risk/Rewards looks favorable.
If the markets have to remain bullish, Nifty Bank must support as all the other sectors have already run up except for Banks.
What will RBI do and how will markets react? Well, we can only guess and that's why it's very important to follow the plan.
And the plan is to remain bullish and fully invested as long as my regime filter suggests so. Period.
We had two open positions today, I-Sec and Manappuram. I-Sec fired up to the upside by almost 8% while Manappuram was flat. There are no open positions as far as my Swing Trading Model is concerned.
Here's the list of stocks to watch out for tomorrow's trade. You can choose to enter these stocks on an intraday correction of 2-3%.
Do check out the performance of my strategies.
Have a profitable day ahead!