It was indeed quiet before the storm on Friday!
Nifty and Nifty Bank both were printing out narrowest ranges as well as back to bank Doji's which were pointing to range expansion. The Nifty had a range of just 136 points during the first four days of the week and the range expanded to 255 points on Friday.
The markets were ripe for a healthy correction!
During the day Nifty declined by almost 200 points only to recover and closed down 122.05 points.
As mentioned in my previous post, VIX was at pre-COVID crisis levels and could shoot up any time and it did. The IndiaVIX, at one point, was up almost 12% only to settle at around 5.5%.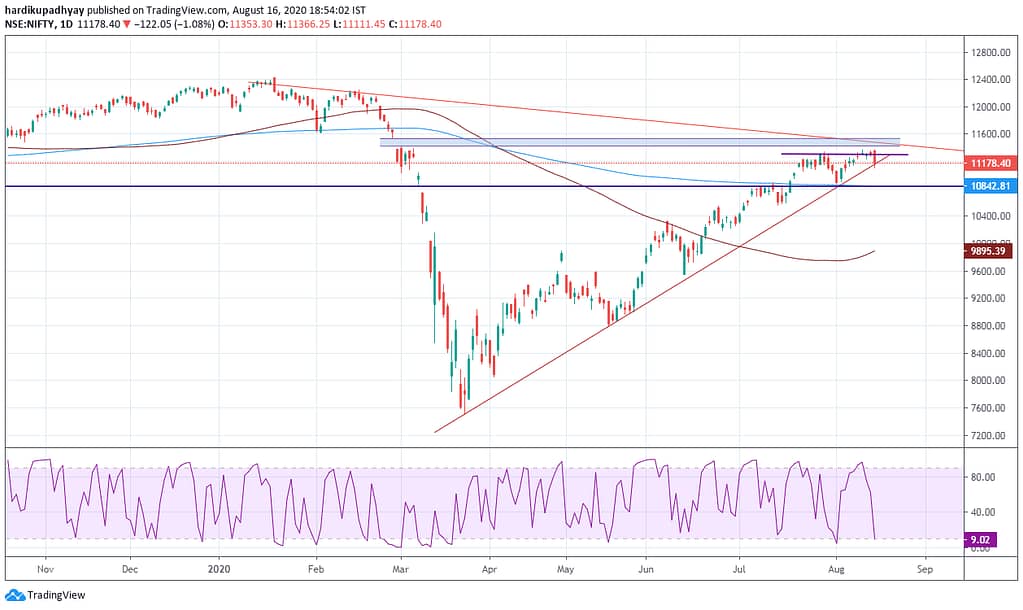 Nifty is at a very crucial juncture!
On Friday Nifty went below the rising trendline but closed just above it. Short term oscillator is showing a slightly oversold reading but the upside is capped up to 11300.
Break below Friday's low will take us to 10882 where 200 DMA also coincides.
The rally in Nifty Bank above 21950 was a suspect as I had mentioned and it declined by 2.33% or 533 points.
The level of 21000 remains a do or die level for Nifty Bank. The price structure is weak at it has traced out a lower top than the previous swing high made in late July.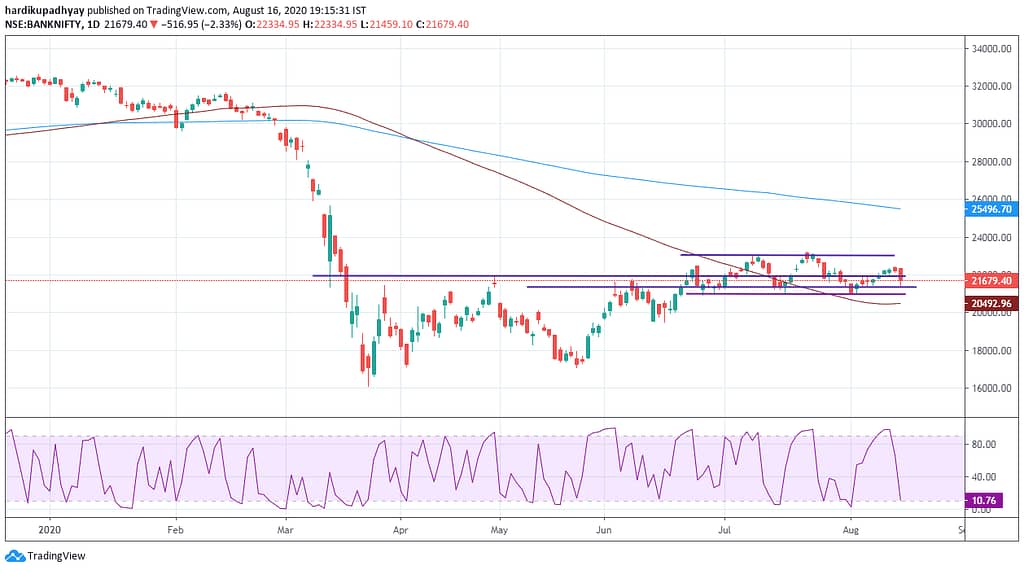 The SC has deferred the AGR decision to Monday 3 PM. Until the verdict is out, markets to remain on edge on Monday.
The charts at least are not painting any rosy picture and we are likely to fall during the next week.
It's time to be really cautious!
On Friday we had two short trades in Ashok Leyland and Indigo. Indigo declined by more than 5% while Ashok Leyland declined by 3% from my selling price.
Here's the list of potential stocks to trade on Monday. You may look to enter at the open or an intraday decline of 2-3%.
I have already updated the real-time performance of my strategies if you wish to check it out.
Have a profitable day!
*** This is not an investment advice and only for information and educational purposes.