Finally, the bulls have won!
For now, atleast!
As I had mentioned in my previous issue of the Daily Game Plan…
If the bullish trend were to continue, Nifty has to make a large bullish candle above 11350 possibly tomorrow itself. if it does, we're looking at 11450-11550.
And Nifty just did that!
Nifty closed strongly up at 11385.35 or 138.25 points.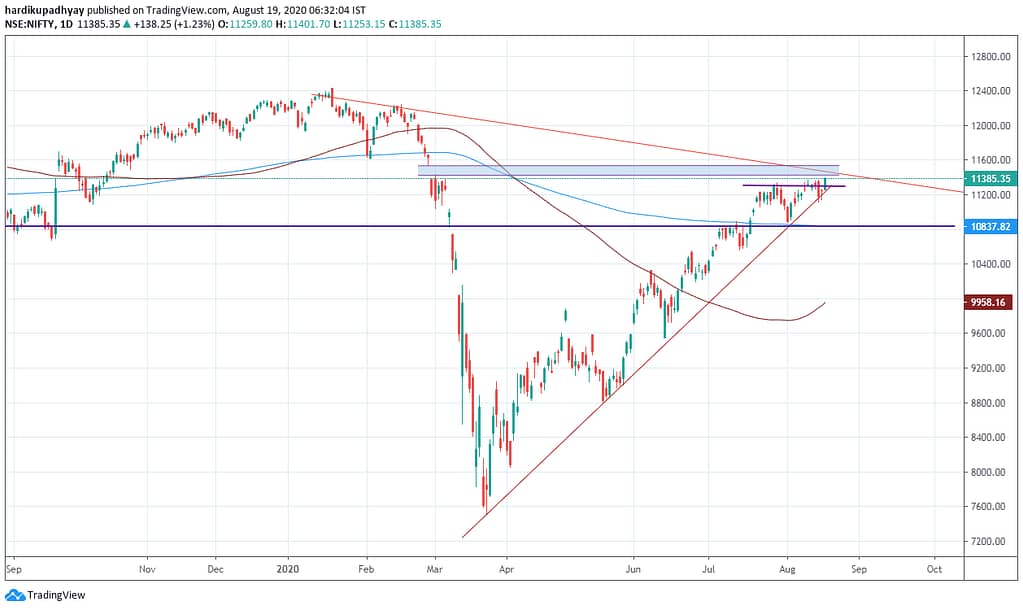 So what should you do? Should you jump on the badwagon?
I'd advice to you be cautious and not get carried away!
Why?
The Nifty must follow through strongly today above the previous close.
The signs are visible that the trend is getting tired. The peaks are becoming shallower as measured from the rising trendline. If the bulls have to continue, we have to move far away from the trendline.
There are multiple overhead resistances in the zone of 11450-11550.
The volumes were not that encouraging yesterday as I would have liked.
What about Nifty bank?
Nifty Bank has clearly defended the supports at 21350-21500 and closed above 21950. If it is able to clear the previous swing high at 22240, we are looking at the levels of around 23000 in Nifty bank.
The AGR Case hearing today will decide its fate!
As for today's trading, there are no long signals! But we have a short signal according to my Swing Trading Model. You can choose to go short on an intraday rally of 2-3% above the previous close.

I had three open positions yesterday in APLL, Auro Pharma & ICICI Lombard. ICICI GI has shot up by almost 4% from my purchase price, while APLL & Auro were slightly profitable. I would be looking to exit the positions at opening today!
Have great trading day ahead!