Markets continued to be choppy during the past week. At the beginning of the weak Nifty declined and by the end of the week, we are up 1.24% at 10901.7. Star performers were IT stocks which witness buying frenzy and took Nifty IT to all-time highs. The drama also unfolded on the day of RIL AGM which hit an ATH and retraced the gains and came back up end the end of the week.
But there's nothing to be so optimistic about!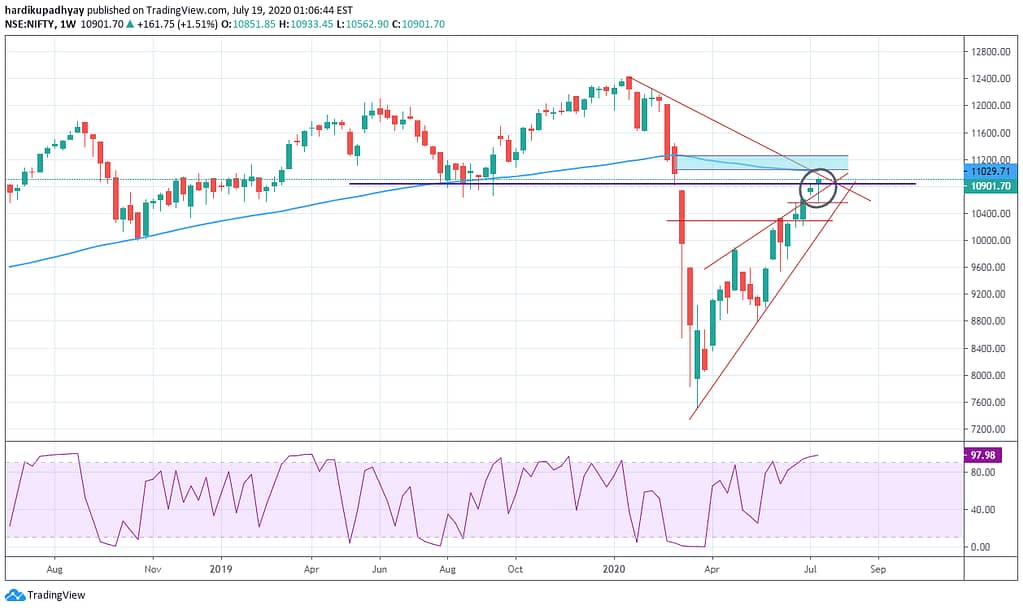 There are many bearish indications:
Last week Nifty formed a shooting star followed by a hanging man candlestick pattern this week near multiple resistances which shows exhaustion.
Nifty is facing resistance at its 200 DMA at around 10870.
There's a downsloping trendline resistance from All-time highs at around 10950 levels.
100 Week MA placed at 11030.
Nifty is at the top of a rising wedge pattern.
Short term RSI shows overbought readings.
Nifty Bank is underperforming Nifty. Financials control 30% of the Nifty and Nifty bank is also showing weakness. The nifty bank also traced out a shooting star last ween followed by a bearish engulfing pattern. Nifty has retraced more than 62% of the fall from ATH but Nifty bank has just retraced about 38%.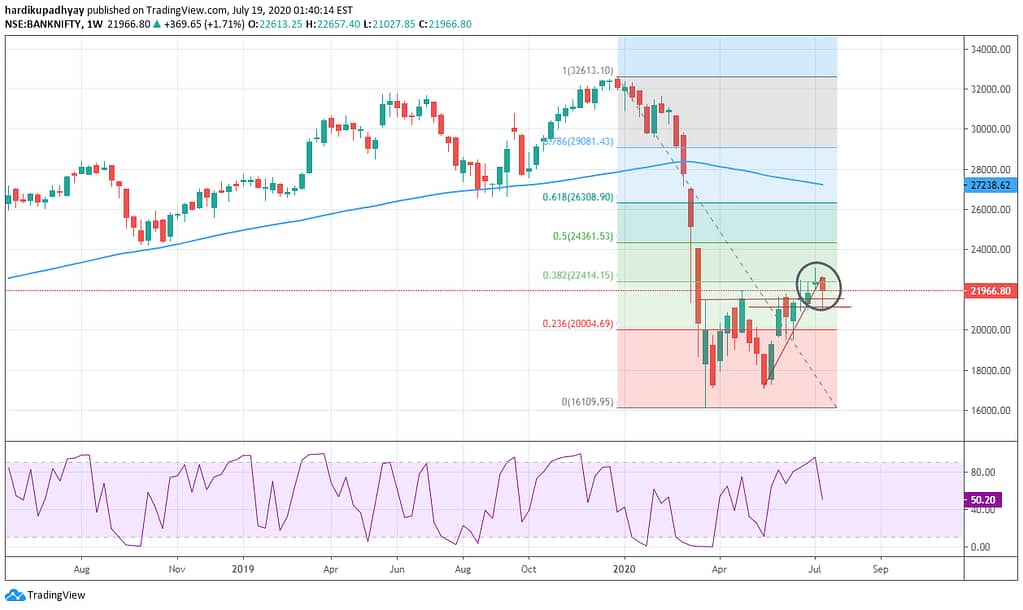 8. The major drivers of the Nifty, RIL & IT stocks are overbought and could pause or retrace.
9. Major Global markets are also showing similar pattern as Nifty.
So putting all things together, I expect a bumpy next couple of weeks. For Nifty to maintain upward momentum, it must not break 10550 levels.
I remain cautiously bullish!
Here are the most oversold /overbought stocks based on My Swing Trading Strategy.
Most Oversold on weekly basis:
Look to buy these stocks intraweek correction of 3-5%.
Most Overbought Stocks:
Look to short these stocks at 2-3% above the close.
Wish you a profitable day!
If you want to know more about how these signals are generated, do check out my strategies.