After zig-zagging during the past week, Nifty has finally broken out above the previous peak but the momentum is lacking!
Broader markets are doing good and today Bank and Telecom sector supported the rise.
Nifty still remains in a crucial confluence of resistances between 11450-11550.
After almost hitting 11500, nifty gave back some of the gains and closed at 11466.45, just a tad above the previous peak of 11460.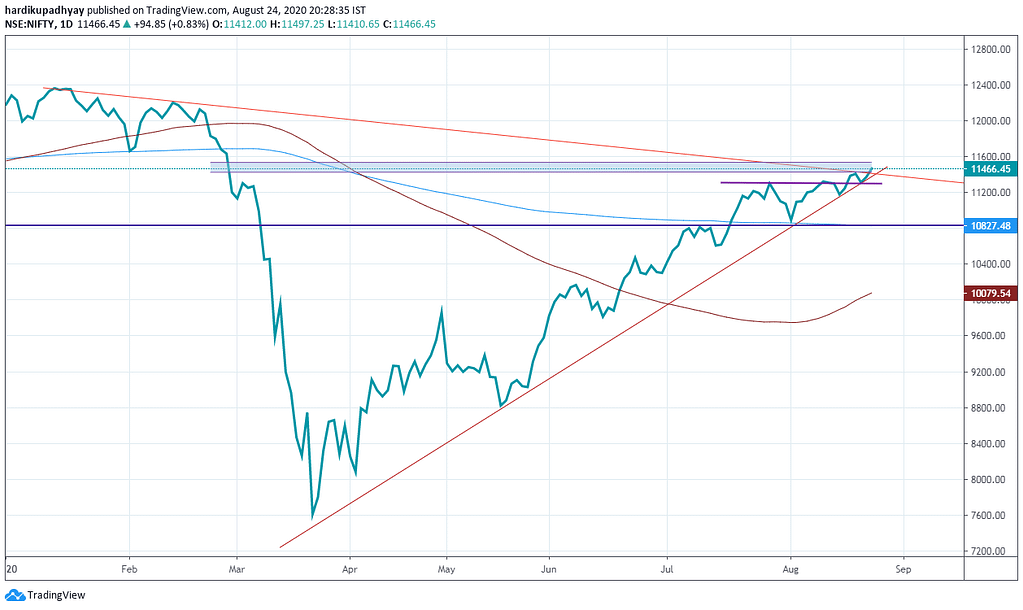 Although Nifty is making higher highs and higher lows, the rallies have been shallower which is not an encouraging sign.
Nifty Bank also faces a significant resistance at 23050.
Both the indices closing above their respective levels can only take the markets higher.
The scenario is not much optimistic in my opinion!
As I had previously mentioned that while trading or investing, our opinions don't matter!
What matters is the execution of the plan!
Despite the not so encouraging signs, I remain fully invested in my long term momentum strategy.
I trade on the rules and not on the views!
Here's the list of most oversold/ overbought stocks as per my Swing Trading Model. You can place a limit order to buy or sell 2-3% below/above the previous close.
I had a short position in GMR Infra at 24.85 which I had to cover at a loss at 25.35. GMR INFRA still remains overbought.
Let's see how the day unfolds tomorrow!
Have a profitable day ahead!
*** This is not an investment advice and only for information and educational purposes.