Well, Nifty marches on!
One thing I have learned over time about markets is that they don't give a damn about what you expect it to do.
The markets will do what they do and we can only react to what they do!
It's best to be the slave of markets rather than try to be its master!
The case in point is this rally! For the last few days, there have been many indications that the markets could go through a correction but it didn't! In fact, it has broken out above the resistance of 11240.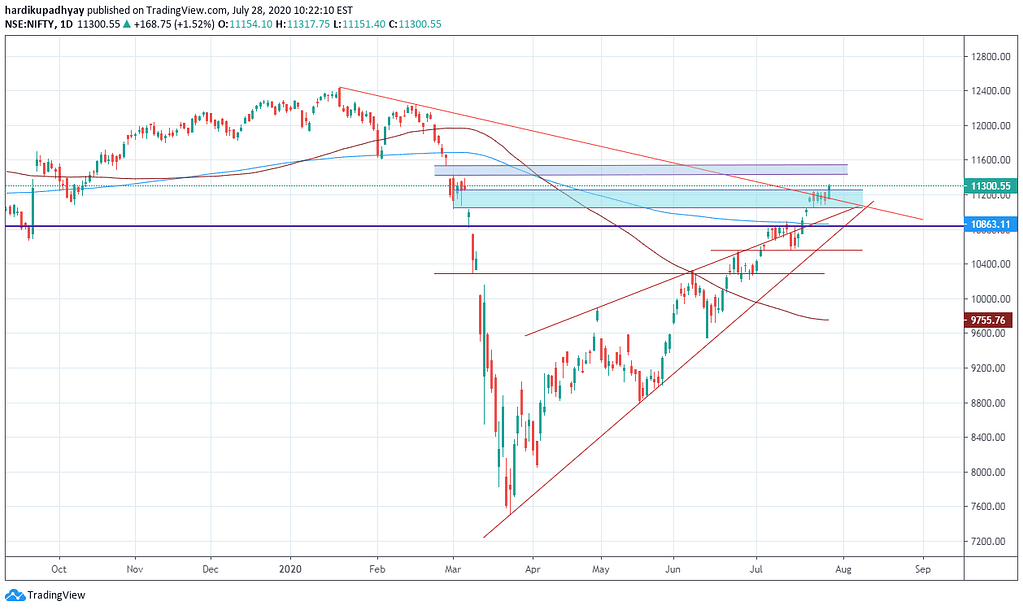 So what's next for Nifty? Well, the Nifty has broken out above the range of last 4-5 days as well as downsloping trendline drawn from the ATH which clearly a bullish indication. There is an unfilled gap between 11433 and 11536.7.
Nifty Bank is going nowhere & will cap the upside for the Nifty but at the same time, other sectors are also participating. All the sectoral indices were in green and Auto, IT & metals were top performers.
This week there are many index companies that have their results lined up. Tomorrow also it seems will be an eventful day as Maruti, Bharti Airtel and Dr. Reddy's announce their results. Day after tomorrow, big daddies, RIL & HDFC, are going to announce their quarterly numbers.
Here are opportunities for tomorrow based on my Swing Trading Strategy. One can look to enter at 2-3% intraday correction during the day.

You can check out weekly real-time performance review of all my strategies.
Have a profitable day!