The roller coaster ride continues!
It looks like the markets are not willing to give up!
Nifty opened with a slightly negative bias and tumbled down to 11822 before completely recovering losses to close at 11971.05 or up 36.55 points.
Financials were the star of the day while IT & Pharma saw some correction.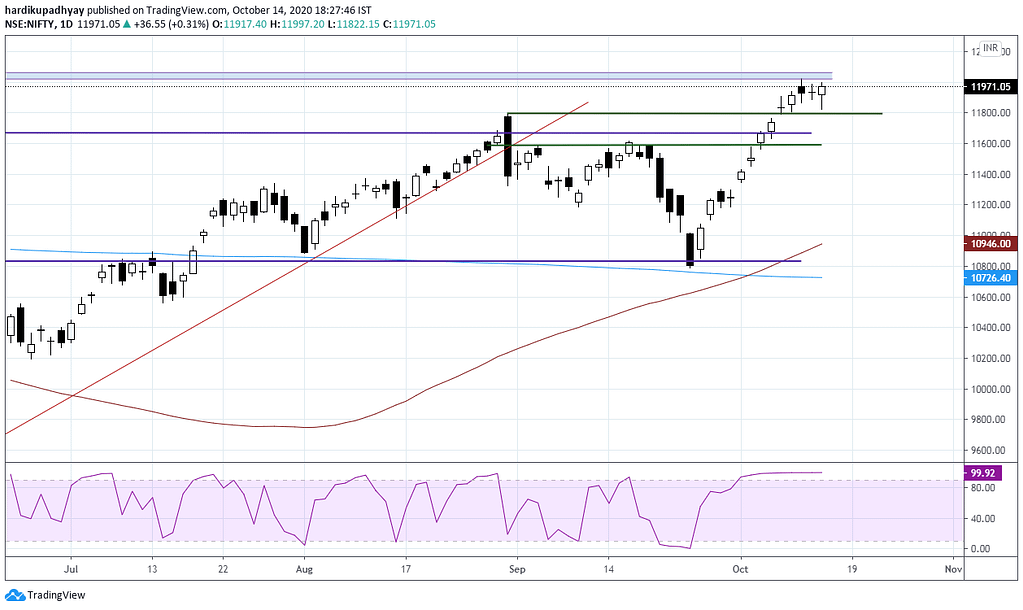 Here are my observations from the daily chart of Nifty…
Nifty continues to remain overbought and has closed up for 10 consecutive days.
It has formed a candlestick pattern similar to Hanging Man near the recent highs.
The markets are trapped in a range of 11790-12022. Breakout on either side will determine the future trend.
Break above 12022-12071 will take us to 12250, 12430 while a break below 11790 could invite a correction upto 11580-11600.
Nifty Bank really was the showstopper today as the Supreme Court was hearing the prolonged moratorium case.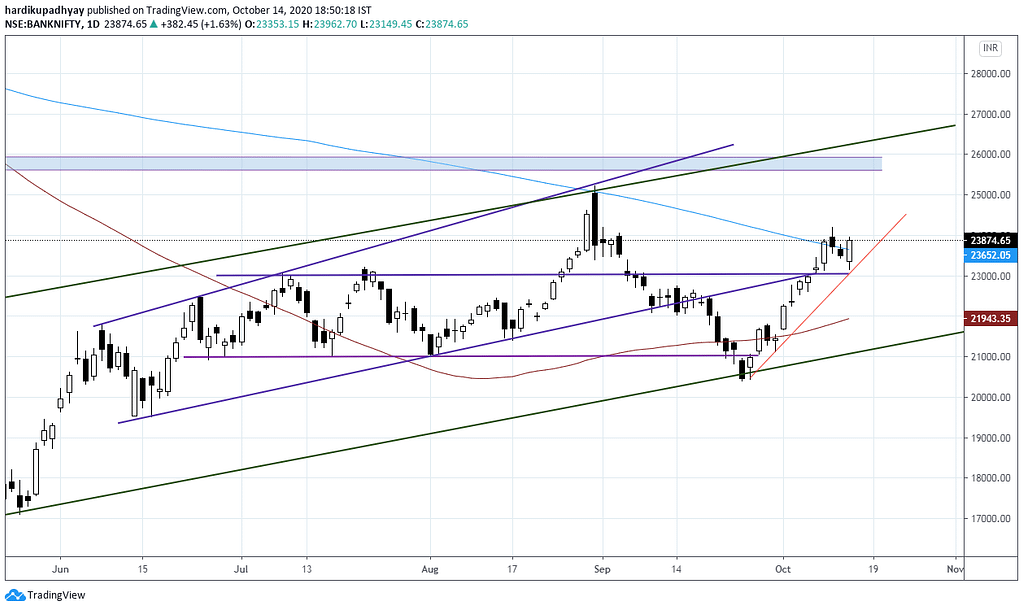 Nifty Bank recovered early morning losses and smartly managed to close above its 200 DMA. It has formed a Bullish Engulfing pattern and a break above 24190 can take upto 25232.
Let's see how it plays out over the next two days before closing the week.
There's one buy signal for tomorrow as per my Swing Trading Strategy. You may look to buy at an intraday correction of 2-3%.
Wipro is one of the stocks I am holding in the Dual Momentum Rotational portfolio which corrected heavily today after announcing Q2 results.
Have a profitable day!
P.S:
Tomorrow marks the 3 months of the Daily Trading Plan. It has been an exciting and profitable journey. I am pleased to share with you that the DYR Hybrid Strategy has delivered excellent returns of over 28% during the quarter.
I hope that you have found it helpful in your trading journey. I would be very much grateful if you can share your feedback/suggestion about the Daily Trading Plan by commenting below or sending an email at howtodyr@gmail.com.
Your feedback will inspire me to continue to share my knowledge and experience with you all!
Thank you !