Markets take stairs up and elevator down!
That's how it is!
Nifty just kissed the previous high and quickly reversed the gains. Things got really out of hand post the mid-session, Nifty went down to make a low at 11661 before closing at 11680 or down 290 points.
The selling was seen across the board, specifically Telecom, Banks, IT, and energy.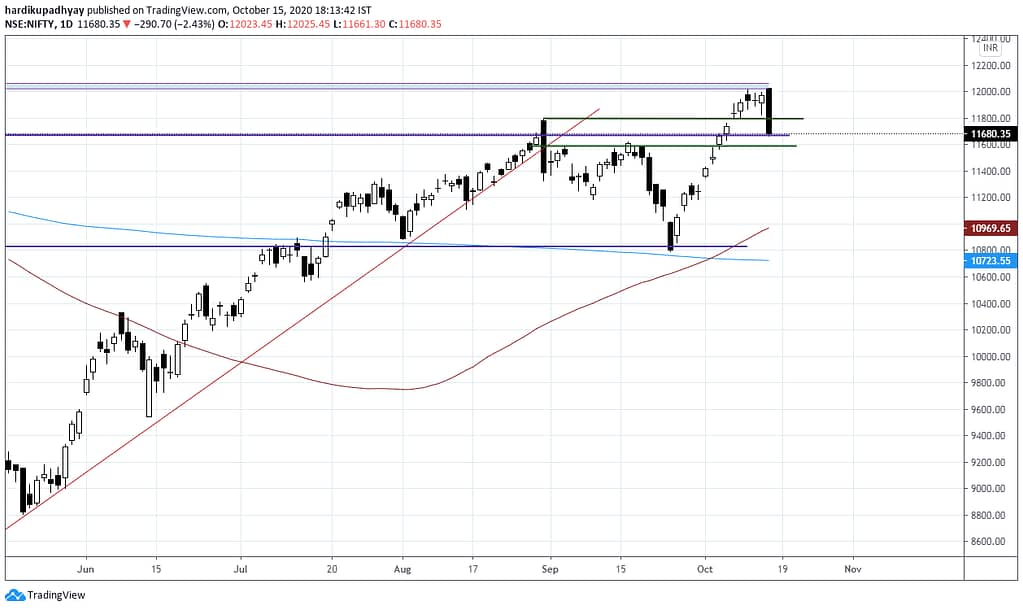 The Nifty finally broke its 10-day winning streak and engulfed the past six daily ranges.
These kinds of large reversal patterns do not suggest just a small correction and we are most likely going down to 11580-11600.
Tomorrow is crucial as it's the last day of the week and if Nifty closes below these levels, we are looking at 11485 which is absolutely critical for bulls to maintain.
I had already raised cash in the DYR Dual Momentum Portfolio to the tune of 20% as I had anticipated volatility in the month of October based on the Big Picture Analysis. I think it's serving well!
Nifty Bank has failed to decisively close above its 200 DMA and falling trendline and settled just around the crucial 23000 levels. Break below this level would be very much negative for the Nifty Bank.
Time to be cautious!
Here's the list of most oversold stocks based on my Swing Trading Strategy.

As you can see the list is dominated by IT stocks which shows that the whole sector is oversold. I already have a position in Wipro at 344 while I am also holding it in my Dual Momentum Rotational portfolio.
Let's see how it fares over the next few days!
Have a great day ahead!
*** Please don't consider this to be investment advice and it is strictly for informational and educational purposes.