Heightened Volatility continues!
Nifty opened higher at 11922 but came crashing down towards the end of the session to 11684 before settling at 11729.6 or 159.8 points down!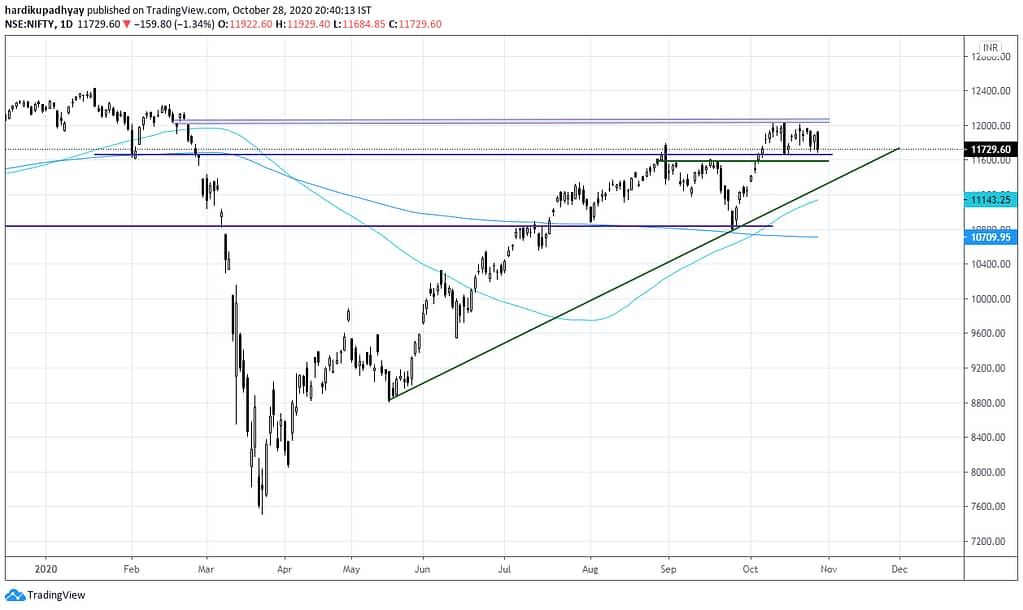 Nifty completely engulfed yesterday's candle which is a bearish sign.
If the bullish trend were to continue, Nifty should not close the week below 11600. If it does, then the trend would change to bearish as the Nifty would have broken the rising trendline on weekly charts.
I had anticipated the heightened volatility in the next few months in my Big Picture Analysis and that's why I had raised cash in my Dual Momentum Portfolio. It's serving well as of now!
The next few days are expected to be extremely volatile as we have F&O expiry tomorrow and weekly & monthly close the next day.
All European and American markets are showing cuts in the range of 2-4% while SGX Nifty is down by 90 points as of this writing.
Please be cautious over the next few weeks!
Nifty bank failed to cross the swing high above 24824 and reversed most of yesterday's gains.
Break below 23867 will drag it to the 23200-23000 zone where it's 200 DMA is placed.
Here's the list of most oversold stocks based my Mean Reversion Strategy.

I have only one open position in FEDERALBK at 53.1. let's see how it performs over the next few days.
Have a safe trading day tomorrow!
***Please don't consider this to be investment advice and it's only for education and information purposes.