It's been an outstanding week for the markets as well as the Hybrid Model Portfolio!
The portfolio is just a whisker away to hitting a century!
Who would have thought that the markets would hit lifetime highs in the face of the worst pandemic we have faced in our generation!
This goes on to show that the markets are supreme and you should never argue with the tape! Whenever you feel like you don't agree with the markets, say this dialogue from one of my most favorite movies, 3 IDIOTS…
"Jahapanah Tussi Great Ho, Tohfa Kabool karo"
Follow the price & the plan, you'll just be fine!
If you have a trading plan & followed it, you deserve the pat on your back. If you haven't, now would be a good time to get a working plan that you can follow!
My Hybrid Approach can help!
Hybrid Investing Approach helps us to take advantage of both Momentum & Mean Reversion characteristics of stocks.
What I simply do is establish a core position of 10 stocks based on Dual Momentum Monthly Rotational Strategy and Scale-in and out of the core positions based on my Mean Reversion Strategies so as to reduce our net costs and overall risk.
The best of both worlds, Momentum & Mean reversion!
Let's have a look at the actual 10 stock model portfolio established based on the Hybrid Investing Approach!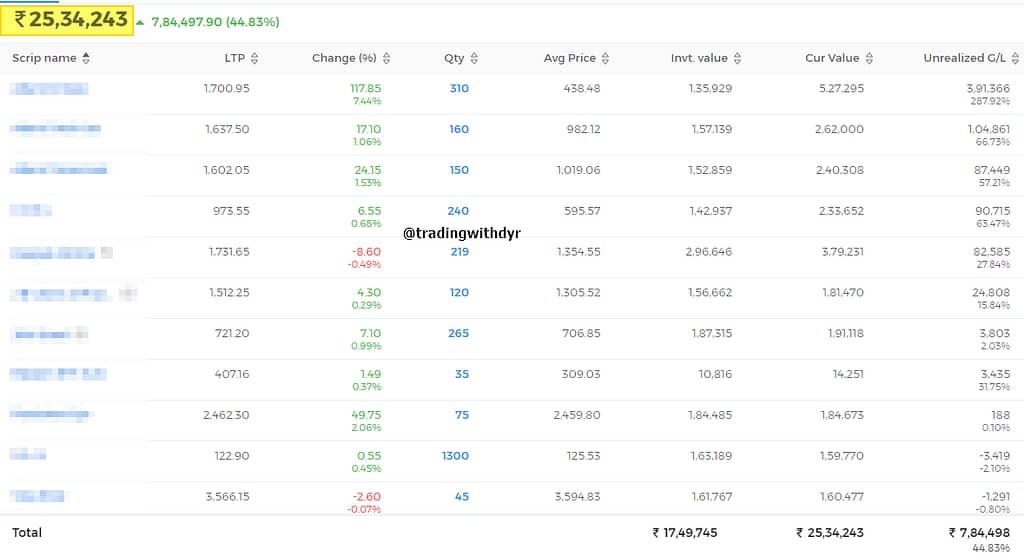 The total portfolio equity at the end of the week stands at an all-time high at Rs. 28,49,562.17 ( 25,34,243 + 3,15,319.17). Overall, the Hybrid Model Portfolio absolute returns stand strong at 99.27% since inception on 30/06/2020 on a total investment of Rs. 14,30,000.
Nifty, during the same period, has risen by 52.11% while the broader Nifty 500 is up by 58.04%. The Hybrid Model portfolio has handily beaten both indices.
Let's see how far the performance continues!
Have a great weekend!
---
P.S:
Last year, when I wrote the Hybrid Approach Guidebook, I was just scratching my own itch so to speak. I wanted to put down my strategy rules, rationale & all other details to help me stick to the plan. I was not even hoping that people would buy it. But I must tell you that how wrong I was. People do pay if you can really provide the value.
The ebook has been well received & many people who implemented have hugely benefited from it. My own performance has been nothing but outstanding.
To celebrate the success & first anniversary, I'm offering 50% OFF on the Hybrid Approach Guidebook. Please use discount code MAY50 at the checkout to activate your 50% discount. The offer ends midnight 15/06/2021!
Click here for more details!
All the best!