There's no stopping the Bulls!
Nifty hit another record high this week at 14367.3 before closing the week at 14347.25 or up 2.35%. Nifty 500 also followed the suit and closed at an all-time high of 11925.6 or up 3.03%.
The most comforting part about this bull market is that it's supported by broader participation and not just a few heavyweights like in early 2020.
I had mentioned in my previous report on 04/12/2020, that Nifty is 500 is going to outperform Nifty over the next few months.
Well, it's working out just fine, and Nifty 500 is just a stone's throw away from 12000! Both mid-cap and small-cap indices have outperformed during the week.
Bulls are here to stay, at least up-to the budget I think!
Our Hybrid Model Portfolio is performing just fine!
Here's the real-time snapshot of the actual 10 stock model portfolio established based on the DYR Hybrid Strategy. The Hybrid Strategy is the combination of Dual Momentum Monthly Rotational Strategy and Mean Reversion Long/Short strategies applied together.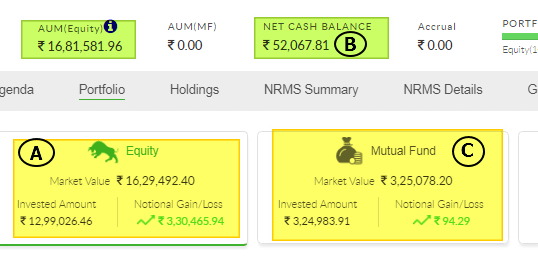 Total equity at the end of the week stands at Rs. 20,06,638.41 (A+B+C) which works out around 45.4% returns since 30/06/2020 on initial equity of Rs. 13,80,000.
The performance is remarkable if you consider that the portfolio holds high quality and low volatile mid-cap and large-cap stocks.
Another thing to be noted is that I had raised around 11% cash during the October rebalance and raised some more cash in January rebalance.
The cash & cash equivalent( Liquid funds (C)) as a percentage of the total portfolio currently stands at 18.79% (B+C). Going forward I want to maintain the 80:20 ratio between equity and cash to account for any nasty surprises.
One of the Crown jewels of the portfolio is Dixon Technologies which up almost twofold since I bought at 5765. Another multi-bagger was Granules India but it gave up gains and we had to contend with a gain of 74%.
If anything I have learnt through Momentum Investing is…
No price is too high: Some of the stocks like Dixon and Granules were already up 100% from lows which further rose by more than 100%.
Don't judge a book by its cover: This applies in the case of ADANI GREENS. It was the top stock on my watchlist in June 2020 at a price of 360 but I didn't buy it as it was a 5% circuit counter. It rose fourfold from there!
That's it for the week!
Have a great weekend!
P.S:
If you're interested in learning how I built the above portfolio, I'd recommend you to attend the workshop that I am hosting on 16/01/2021. You can find more details on the below link!
Momentum Investing Masterclass! Beat the market with less risk, stress, and time!