The portfolio bounces back to new highs!
The last week was horrible for the Hybrid Model Portfolio but it has recovered all the losses and has hit a new equity high!
Hybrid Investing Approach helps us to take advantage of both Momentum & Mean Reversion characteristics of stocks.
What I simply do is establish a core position of 10 stocks based on Dual Momentum Monthly Rotational Strategy and Scale-in and out of core positions based on my Mean Reversion Strategies so as to reduce our net costs and overall risk.
The best of both worlds, Momentum & Mean reversion!
Let's have a look at the actual 10 stock model portfolio established based on the Hybrid Investing Approach!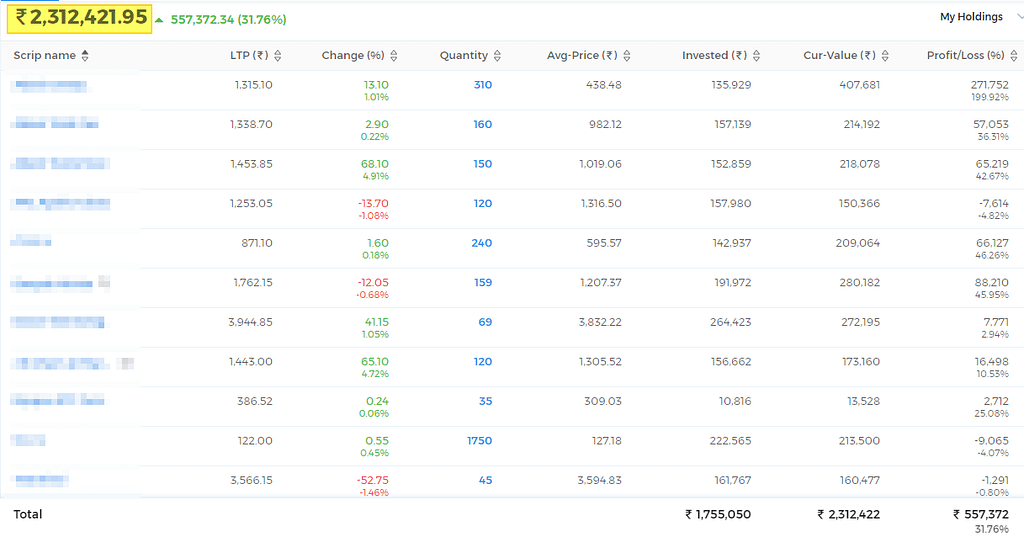 The total portfolio equity at the end of the week stands at an all-time high at Rs. 26,24,300.08 ( 23,12,421.95 + 3,11,878.13). Overall, the Hybrid Model Portfolio absolute returns stand strong at 83.52% since inception on 30/06/2020 on a total investment of Rs. 14,30,000.
Nifty has during the same period has risen by 47.3% while the broader Nifty 500 is up by 52.43%. The Hybrid Model portfolio has handily beaten both the indices.
Let's hope the outperformance continues!
Have a great week ahead!