The month of May, which is otherwise considered bad for the markets, has turned out to be good!
Nifty has claimed back the all-time highs to close the month at 15435.65, up 5.5%. Nifty 500 has handily outperformed Nifty and closed up over 6% during the month.
Let's have a look at the monthly charts although there's one more day left for the month to end.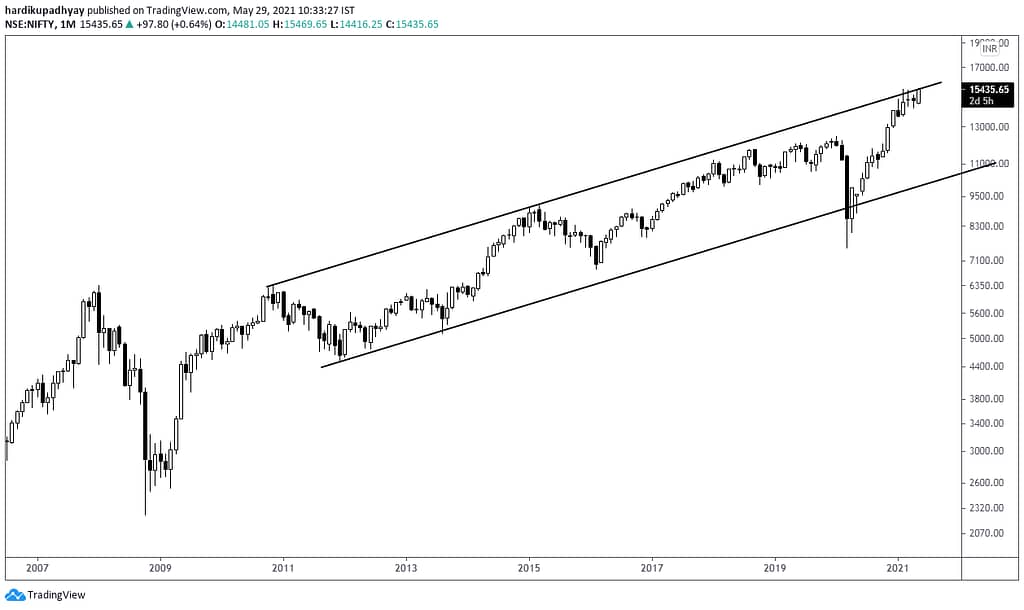 Well, on the long-term monthly charts nothing has changed. Nifty is still trapped inside the channel & faces the resistance at the upper trendline.
While the trend is still considered up, we need a strong breakout above the channel for it to be legitimate.
The SENSEX has also closed at the highest level ever, however, it hasn't been able to close above the previous peak of 52516.76.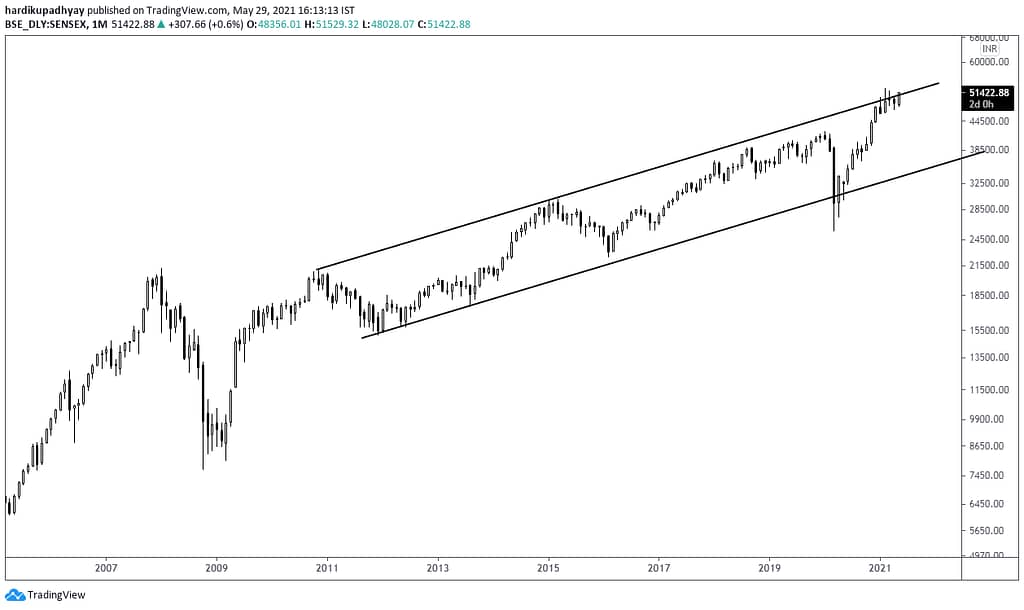 The same goes for Nifty Bank, IT, and other major sectoral indices. The good thing is there's participation from the laggard sectors like the PSU BANKS, PSE, INFRA & Media. Nifty Small & mid-cap indices are at all-time highs. And so is the Nifty 500.
All in all, the indications are bullish but at the same time, they can turn out to be false breakouts. That's why we need a strong followthrough in June above the previous highs for the trend to continue.
Let's see how we fare over the next month!
The outlook remains bullish!
Have a great weekend!
---
P.S:
Have you checked out my Hybrid Approach Guidebook? If you haven't, this would be a great time to do so as It's on sale for 50%. Please use discount code MAY50 at the checkout to activate your 50% discount. The offer ends midnight 15/06/2021!
If you've ever been thinking about taking your trading & investments into your hands, this would be a great opportunity to start. Click here for more details.
Thanks!