The markets continue to drift lower but not the portfolio.
The Hybrid Model Portfolio is quite resilient & just a tad lower than the all-time highs.
Hybrid Approach helps us to take advantage of both Momentum & Mean Reversion characteristics of stocks.
What I simply do is establish a core position of 10 stocks based on Dual Momentum Monthly Rotational Strategy and Scale-in and out of core positions based on my Mean Reversion Strategies so as to reduce our net costs and thus reduce risk.
Here's the real-time snapshot of the actual 10 stock model portfolio established based on the Hybrid Approach!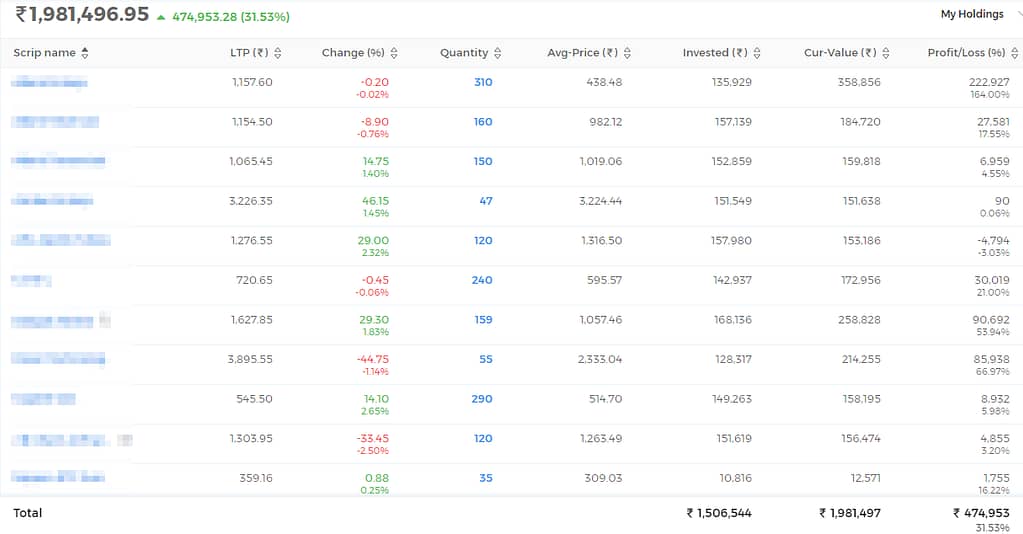 Total portfolio equity at the end of the week stands at Rs. 23,88,674.42 (19,81,496.95 + 4,07,177.47). Overall, the Hybrid Model Portfolio absolute returns stand strong at 67.04% since inception on 30/06/2020. Cash as % of the portfolio remains at around 17.05%.
The portfolio has performed very well to my expectation!
But there's only one problem!
The Nifty has closed below its 100 Day MA for the first time since 19/06/2021.
What does that mean?
It signals the regime shift for my strategy. We use what we call a regime filter which is nothing but a risk-management tool to save us from big market declines. It alerts us to be in a capital preservation mode when markets enter a bearish phase.
As part of regime filter, we do any one of the following or both until the time Nifty is below 100 DMA!
Avoid taking fresh positions.
Continue to trade at a reduced position size.
The above decisions are only taken at the time of portfolio rebalance which is due on 30/04/2021.
Let's see where we land up over the next week!
Have a great week ahead!