Another indecisive but volatile month!
The first month of the new FY has not been able to make any headway and closed 0.41% down over the previous month at 14631.1. However, Nifty witnessed huge volatility as it tested 15000 on the upper side and 14151 on the lower side twice during the month.
Indian markets have underperformed during the month despite the fact that the Dollar has softened and developed markets have hit new highs.
The second wave of the covid-19 is taking its toll on the economy as the new cases keep on rising, healthcare infrastructure is highly overstretched and there are partial/ full lockdowns in most parts of the country.
The government has started a mass vaccination program from today for people above 18 but there's a clear shortage of vaccines. In my hometown Daman, there's no registration happening on the Cowin website.
April is the second month since March 2020 that the FIIs have withdrawn money from the Indian markets.
Quarterly results season has been a mixed bag so far.
Despite all the negatives, markets have shown quite the resilience. From ATH to the current low, Nifty is down just about 8 or so.
Now let's look at what the monthly charts are suggesting.
We can clearly see that the Nifty is struggling at the upper trendline. As we had learned in March 2021 market analysis that these kinds of candles near the upper end of the trend channel do not bode well for the bulls.
The interesting thing to observe is that the FIIs have been sellers in September 2020 and April 2021 and both months have a similar candle formation.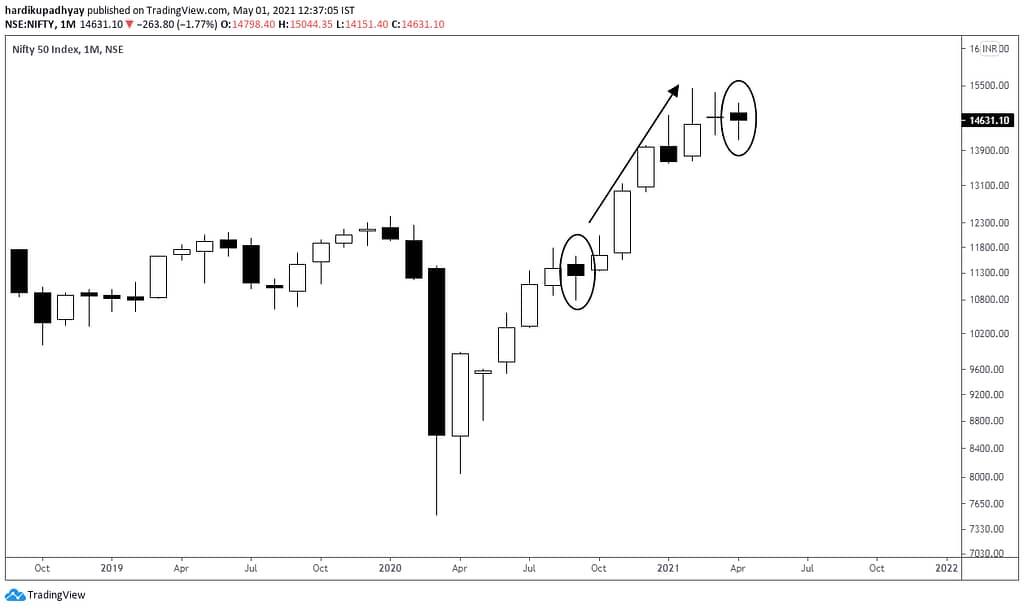 Is it the consolidation before the next leg up?
Let's find out by looking at the weekly charts…
Nifty has traced out a massive shooting star candlestick pattern on weekly charts. That could possibly be attributed to the Bengal, Assam Tamilnadu election results expected to be out tomorrow.
Whatever be the outcome, Nifty should not go below 14151. If we are able to decisively break out above 15050, our chances of hitting new highs would improve.
We also have May month upon us which is seasonally one of the most volatile months for the markets.
The outlook remains cautious!
Stay safe & have a great weekend!