Correction times for the markets!
The Nifty after rising upto 11794 at the beginning of the week, ended 2.69% negative at 11333.85. Nifty 500 also declined by 2.73% during the week.
We had rebalanced the DYR Dual Momentum Portfolio at the start of August. There were 5 exits and 5 fresh entries in the Rotational version of the strategy.
The sector allocation has changed during the month. This month the portfolio is overweight on IT and the concentration on Pharma has reduced from 35% to 15%. Here's the sector allocation of the DYR Dual Momentum Rotational Strategy.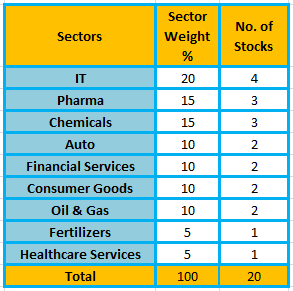 Here's the performance capsule of the DYR Strategies during the week.

As you can see the strategies have held up quite well despite the correction in broader markets. The DYR Dual Momentum- Trend Following version is flat for the week while the Rotational version has seen some correction.
The DYR Mean Reversion Strategy has picked up during the week and has risen by almost 2%. The pullbacks and volatility are friends of mean reversion strategies like this.
Now, let's see the real-time portfolio performance for the week. I apply the combination of three strategies namely Dual Momentum-Rotational & Mean Reversion-Long & short. When you combine multiple strategies in a portfolio, your risk-adjusted returns improve. I like to call this approach the Hybrid Approach.
As you can see the real-time portfolio is up close to 15% since 30/06/2020.
Now that the markets have started to cool off, let's see how the portfolio fares going forward.
Have a great week ahead!