Finally, the moment of truth for the markets!
I have been shouting at top of my lungs since the last couple of issues of my Daily Game Plan, that this rally is suspect and could turn into a false breakout.
All it needed was just one day!
Nifty opened with a gap of 130 points and came crashing down up to 11325.85 before settling 260 points or 2.2% lower at 11387.5. Nifty had a monster range today of 468.4 points and it engulfed the past 6 days ranges.
As I have been mentioning that the daily range of the Nifty is contracting and the rallies were becoming shallower.
Nifty has printed out a massive bearish engulfing pattern! The sentiment has turned completely negative. We are most likely going to test 200 DMA at 10850 if we break 11300.
Nifty Bank kissed the 200 DMA as was expected and came tumbling down to 23385 before settling at 23754.35 or 769 points lower. Nifty Bank also saw a massive intraday range of almost 1900 points! It has strong support at 23050 from where it should see some bounce back.
Despite the massive sell off, none of the indices are oversold which is worrying!
So, what were the triggers?
Well, markets have a mind of their own and we can only speculate about the triggers!
Indo-China Border tension.
Q1 GDP Data: GDP for the first quarter of FY20-21 contracted a whopping 23.9%, the highest % since independence! But this was I think, to some extent, expected as most of the quarter, the country was in lockdown barring a few essential services! What will now be important to see is how fast we recover going forward as most of the country is unlocked.
But to me as an active market participant, the non-extension of the deadline on the new margining system by the SEBI added fuel to the fire. This is disastrous and against the free functioning of the capital markets. Regulating the market is one thing but imposing a draconian law is another. It is understandable that the upfront margin is required for Buying the shares. But the margin for selling your existing holding? If that was not enough, You can't use the proceeds of the sold stock to buy another! What nonsense! There's a lot of ambiguity and confusion! The job of the regulator is to make the processes simpler rather than make it more complex.
Let's see how this new system turns out going forward!
Today we have a large list of stocks that are showing oversold readings. I have filtered out the top 10 most oversold stocks based on my Swing Trading System. You can choose to enter on an intraday correction of 3-5%.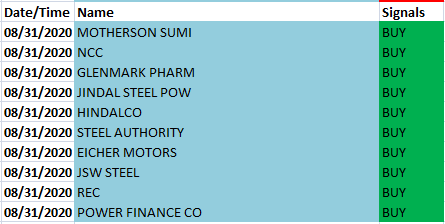 I had a short position in Indusind Bank which declined more than 10% from my selling price of 705. I also one open position in Natco Pharma at 784.7.
Let's see how it fares going forward!
All the best!