A pause after yesterday's massive sell-off!
The positive verdict on AGR by the Supreme Court and some good auto number cushioned the pain to some extent!
But we are not out of woods yet!
Nifty yesterday engulfed prior 6 day's ranges and it looks like there's an intermediate top in place for the markets! The markets have to push above the highs with the same vigor for it to continue to be bullish, which in my opinion will take some time.
Nifty on daily charts has formed a long-legged Doji near an important support level of 11300 but if you see hourly charts, you can see that the Nifty is forming a Flag pattern.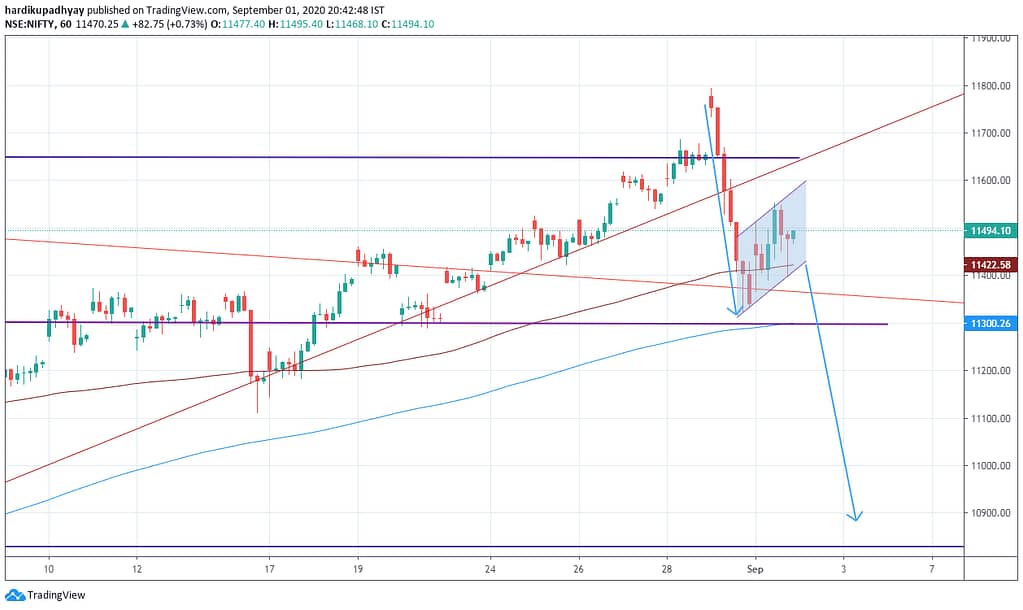 A flag is simply a correction or consolidation after the initial selloff ideally with low volumes. A break below 11400 will confirm the downtrend up to 10850 near the 200 DMA with intermittent rallies.
I hope I'm wrong!
So what should a trader do?
Well, these kinds of corrections will keep on happening and the best way to come out of this is to have a systematic, rule-based strategy to trade or invest. Despite the bearish view, I am fully invested in my Dual Momentum Strategy. You can check out the performance of all my strategies up to 28/08/2020.
Here's the watchlist of most oversold stocks based on my Swing Trading Model. You can choose to enter on an intraday correction of 2-3% tomorrow.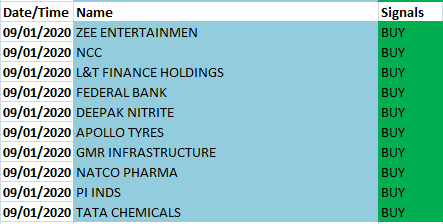 I already have an open position in Natco Pharma at 784.7 which has triggered an exit signal and I'll be looking to exit the stocks at open tomorrow!
Have a great trading day ahead!