Nifty Bank is running while the Nifty is crawling!
Nifty Bank is doing exactly what I had mentioned on August 27, 2020 issue of the Daily Game Plan.
Nifty Bank is finally playing catch up with the Nifty. Although short term oscillator is showing overbought readings, Nifty Bank will continue to go up. Overbought readings are not reliable when the markets break out from the range or consolidation and they can remain overbought for a long period of time.
Nifty Bank, although overbought, seems poised for a rally up to 25144 where its 200 DMA is also placed. Any pullback up to 23050 is a great buying opportunity!
Nifty, on the other hand, is not instilling the same confidence! Even though it has risen by 2.43% during the week and 5.18% during the month. The daily ranges are narrowing and the rallies have been shallower.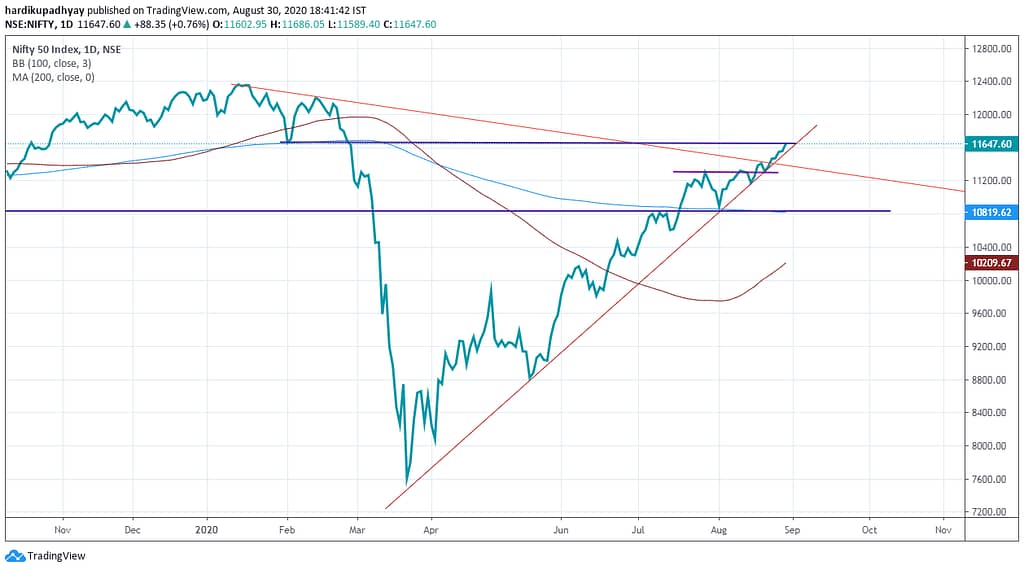 Nifty is overbought and has closed just below February closing low at 11661.85. As I have been mentioning that the Nifty is unable to hold on to gains and seeing profit booking at the end of the day.
Immediate major support remains at 11300 while a strong close above 11662 will be very much positive.
Tomorrow, the GDP data is going to be announced which will be very closely watched. The GDP data is extremely important as the country came to a complete standstill because of the lockdown announced to stem the rise of the COVID-19 pandemic. The Q1 GDP is expected to see a contraction of -15-25% and GDP growth for the entire FY20-21 is expected to be negative.
A pause or a pullback is expected during the week and I retain my cautious stance!
Here's the list of stocks for tomorrow's trading as per my Swing Trading Model. You can choose to buy/ short on a limit price of 2-3% below/above the previous close.
On Friday, I had a short position in IndusInd Bank at 617.1 which I had to cover at a loss of 4.5%. IndusInd Banks still remains very much overbought.
Do check out the performance review of my strategies for the month of August.
Have a profitable trading day!