Friday was the first-week Nifty closed in red after six consecutive up closes. Nifty closed the month by rising 7.5% while the Nifty Bank rose just by 1.26%. There is a glaring divergence between the two indices which is not a good sign!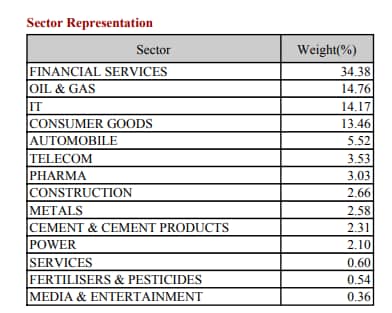 As you can see, financials control 34.38% of the Nifty 50 followed by Oil & Gas, IT & Consumer goods. So far, Oil & Gas, IT, Consumer Goods, Pharma & to some extent the Auto sector has compensated for the weakness in Financials.
The question is how far these other sectors can manage to outperform Financials to keep the Nifty up?
Just to put things into perspective, the IT index has risen by 22.49%, Pharma 11.65%, Nifty Auto 8.34%, Nifty Metals 7.83%, and Nifty Energy 6.34% which have largely compensated for weakness in Nifty Bank. But for how long?
Technically, Nifty is showing weakening signs. Nifty failed to rise above the downsloping trendline from ATH. The most important support zone is 10850 where rising trend line from March lows, as well as 200 DMA, converge.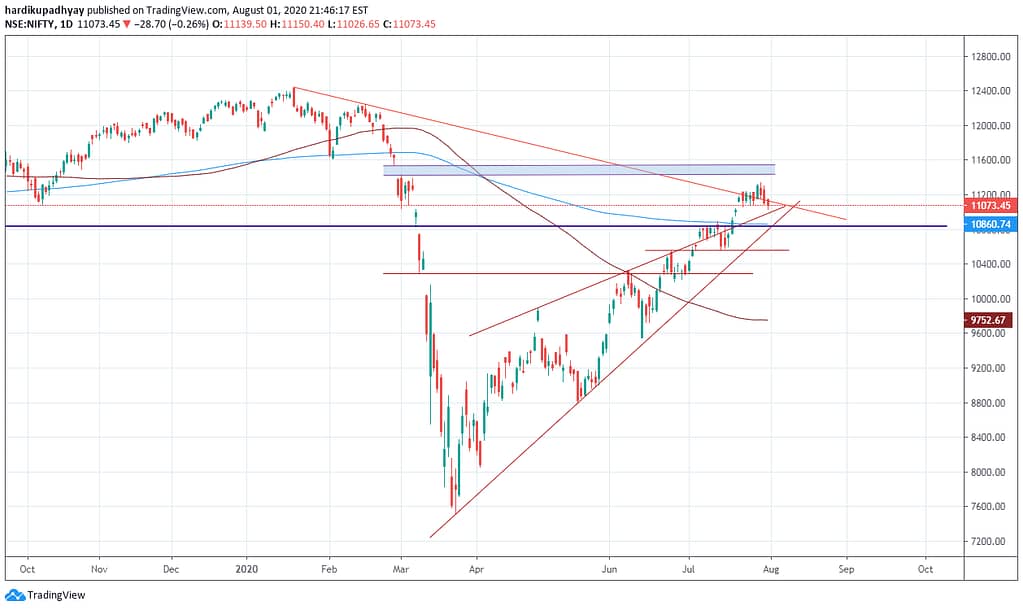 As I had mentioned in my earlier posts, RIL declined on the day of the announcement of its quarterly results. I have been observing Reliance for very long and it was typical Buy on the rumor, sell on news kind of a scenario.
So in a nutshell, Reliance & IT stocks are overbought, Nifty bank is very weak which will drag down the Nifty up to 10850 or so.
But what if Nifty breaks 10850? Well, for one, the strength of the trend will weaken and we might see a large correction.
How big a correction? Well, that's anybody's guess but I remain fully invested as long as Nifty is above 9700-9800 zone where my regime filter is placed. If the Nifty were to fall down below 9700, I will reduce my position size or completely be out of markets.
For now, even though markets are looking weak, I remain Bullish!
Here is the watchlist of the stocks for you to trade based on my Swing Trading Models.
India Cements is the most oversold stock on a weekly basis. You can choose to enter the stock on an intra-week decline of 3-5% from the weekly close.
The following are most oversold/ overbought stocks for 3-5 day swing trades. You can enter these stocks 2-3% above/below the previous close.
I already have open positions in Manappuram, ISEC & Granules. Let's see how they perform during the week!
While you are here, you might want to check out, the Performance Review of my strategies for the month of July 2020. I update the real-time performance of the strategies every week.
Have a profitable week ahead!