A flattish to slightly bullish day!
The Nifty opened flat during the day and saw the last hour buying which pushed it to close up at 11535 or 64 points!
As I mentioned yesterday that Nifty is forming a flag pattern which is a continuation pattern and usually occurs after massive sell-offs or rallies. Although the markets are rising, the volumes are dwindling thanks to the new margining system.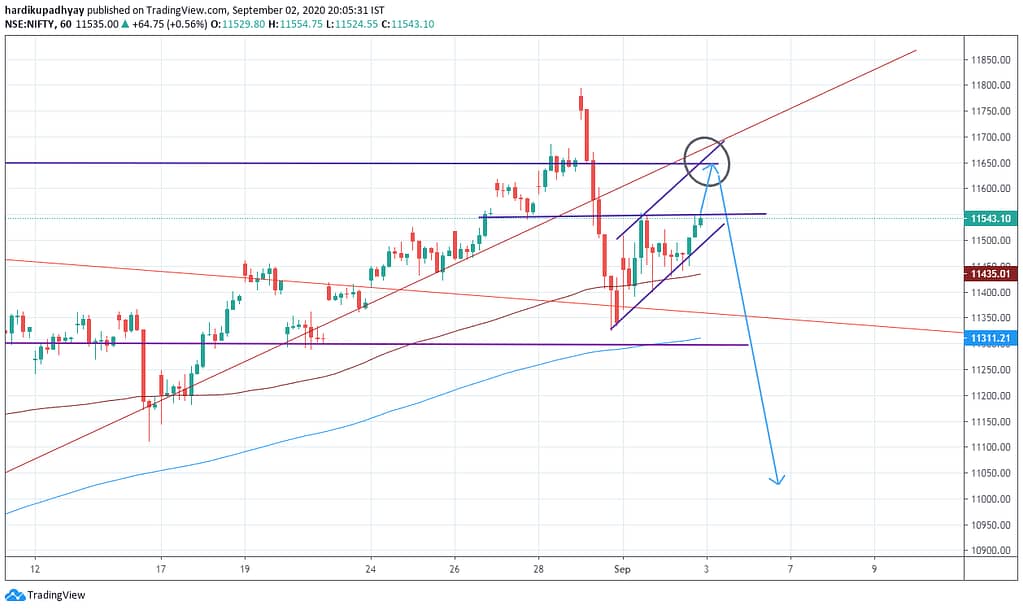 If you observe the hourly chart of Nifty, there are three possibilities!
Nifty pass through 11550 levels tomorrow. The chances are higher that Nifty could retrace some of the losses of Monday and move up to the resistance zone around 11650-11700 from where it will begin the downtrend again.
Nifty is unable to cross 11550 and break the lower trendline of the channel which will be very much negative.
Nifty breaks the recent highs at 11800 which is highly unlikely! Breaking above a key reversal day would require a significant piece of positive news.
Out of the three scenarios, the two are suggesting that the Nifty will probably start sliding down again over the next few days!
The outlook is cautious!
Here's the watchlist of stocks based on my Swing Trading Model. You can choose to enter 2-3% below previous close.

I have no open positions today.
Have a great day ahead!
*** This is not an investment advice and only for information and educational purposes.