The bulls are on the verge of giving up!
The market started off strong and made a high at 11568.90, just shy of the previous peak at 11584.95, but eventually gave up all the gains and closed in red at 11440.05.
Had it not been for the IT stocks, the markets would have tanked very hard!
The mid-caps, small-cap stocks fired up on the back of SEBI's modification in asset allocation rules of the Multi-Cap mutual fund schemes.
My Dual Momentum portfolio also fired up over 5.5% today as the mid-cap and small-cap stocks constitute 65% of the portfolio while the remaining is in the large caps. Let's see how it fares during the rest of the week.
I update the real-time portfolio returns of my strategies every week. Do check it out!
The Nifty is showing fatigue on the back of weakness in financials which constitute 33% weight.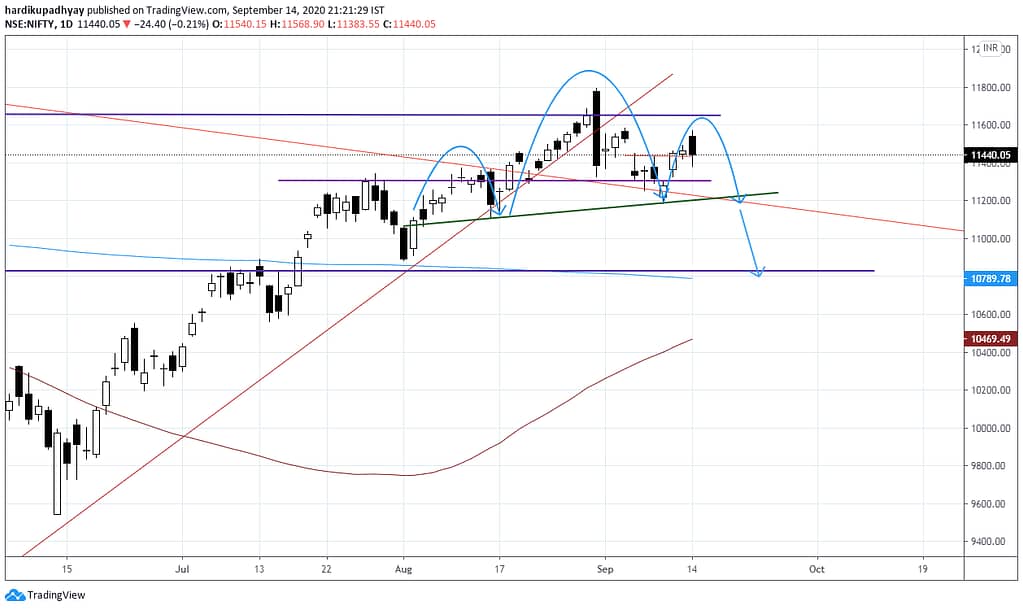 The Nifty has traced out a bearish engulfing candlestick pattern. It looks like we are going down till 11185 below which the head and shoulders pattern will confirm and that's going to be very bearish.
Nifty Bank has also failed to take support at the rising trendline and in fact, closed below it. It has also printed a big bearish candlestick engulfing the past two day's ranges.
If Nifty Bank has a follow-through tomorrow, we may slide down to 21300 where it's 100 Day Average is also placed.
The outlook remains bearish, at least for the frontline stocks and financials!
There's only one stock which is highly overbought today. You may opt to short sell at a limit price of 2-3% above the close.
I have no open positions!
Have a profitable day ahead!
*** This is not an investment advice and only for information and educational purposes.