The markets are trapped in a range!
After printing out a bearish engulfing pattern yesterday, the Nifty did not see any follow-through today and rose back by 81.75 points to close at 11521.8. The rally was mainly led by financials, telecom & pharma.
Mid-cap and small-caps continue to outperform their larger counterparts. My Dual Momentum Portfolio is up around 25% since 30/06/2020 and 65% is held in mid-cap and small caps. What out the Performance section for the real-time performance of the portfolio updated every week.
As I had mentioned earlier that Nifty is trying to retrace the losses it had in the previous weeks.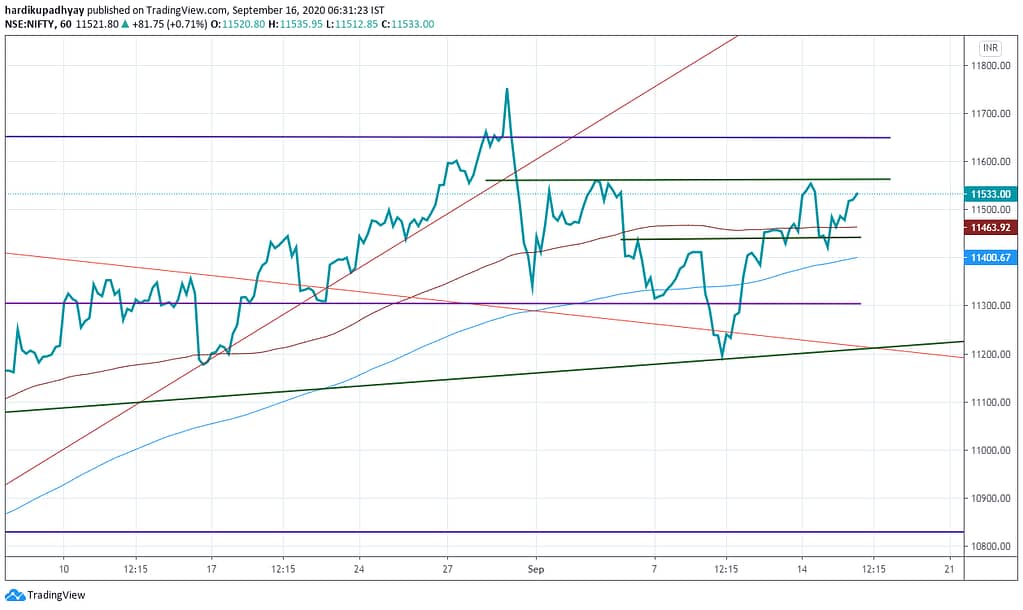 Nifty is facing resistance at 11561-11584.95 which also coincides with 61.8% Fib retracement from the 11794-11185 zone.
A strong breakout above 11561-11584.95 zone will take Nifty up to 11650 but it is unlikely that it will cross above 11794.
As long as Nifty is unable to cross 11794, we are on a shaky grounds!
The outlook remains cautiously bullish!
Nifty Bank also rose 1.65% to reverse the big bearish candle the day before yesterday and has closed slightly inside the rising trend line.
It must be able to clear yesterday's high placed at 22757.3 to see any meaningful recovery up to 23050 or so.
Let's see what happens today!
Here's the list of stocks for today's trading as per my Swing Trading Model. You may choose to enter at an intraday correction or rally of 2-3%.
I have no open positions as far as swing trading is concerned. BTW, Deepak Nitrite has been part of the Dual Momentum Portfolio for the last two months.
Have a profitable day!
*** This is not an investment advice and only for information and educational purposes.