A wake up call for the bulls!
Nifty gapped down 91 points at 11317.45, made a low at 11289.9, and settled down at 11312.2 or 96.20 points.
I had advised readers to be cautious in my previous issues of the Daily Game Plan, as the break out above 11350 on Tuesday was looking suspect and the narrowest range near a crucial resistance zone yesterday further confirmed it.
But Nifty has managed to close above an all important support of 11300.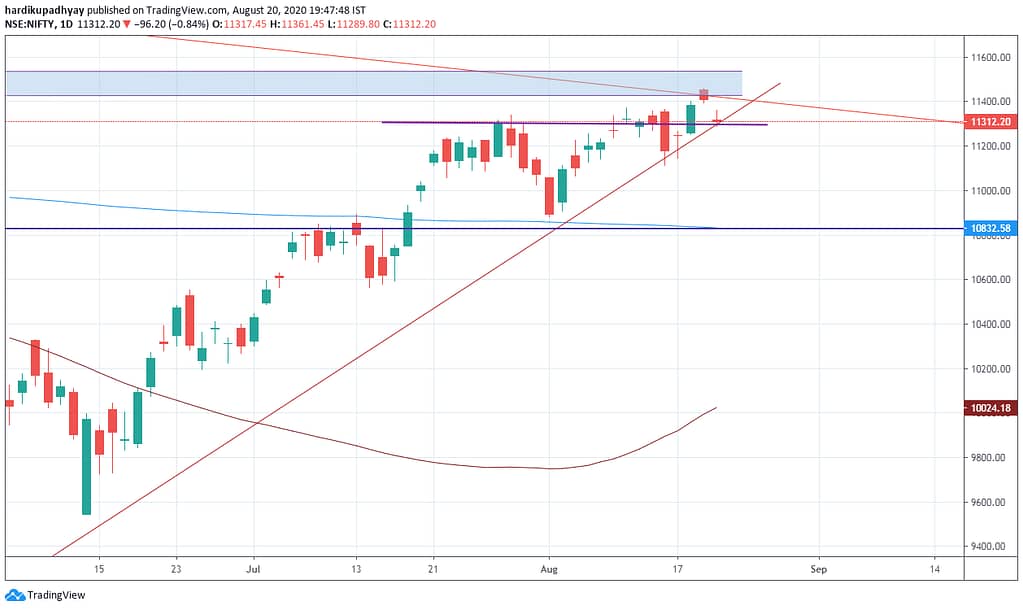 So what next for the markets?
Well, the Nifty faces significant overhead resistance up to 11450 while it's at a striking distance of closing below the rising trendline support at 11300.
Nifty might try and fill the gap area of 11361-11394 but a significant breakout above 11450 looks unlikely to me unless a piece of significant positive news arrives. Nifty will eventually give up 11300 any day during the next couple of days.
Better be cautious than sorry!
Here's the list of stocks as per my Swing Trading Model. You can choose to go long/short on a limit price of 2-3% below/above the previous close.
We had one short position In ZEEL at 201.9 which was at one point down 5% from the entry price but closed down 1.2% by the end of the day. ZEEL still remains the most overbought stock according to my model.
Let's see what happens tomorrow!
Have a great trading day!