The week has been volatile with lot of gap ups and gap downs!
The series of narrow ranges continues!
During the week mid-cap small indices rose but large caps and heavyweights were more or less subdued.
So what's holding up the markets?
Well, zero interest excess liquidity in the global markets!
FPIs have so far invested around 41000 cr in August. Many of the major global markets have significantly recovered from March lows and some of them even have gone on to hit new highs.
The Indian markets have been laggard but recently has caught up with the world markets.
On the contrary, Indian Institutional investors have been net sellers! They had bought smartly during the march lows and now exiting as the valuations have shot up!
How long will the party continue is anybody's guess!
It looks like a tug of war between FPIs and DIIs.
Technically, Nifty faces a significant resistance at 11450-11550 zone while 11300 remains the crucial support.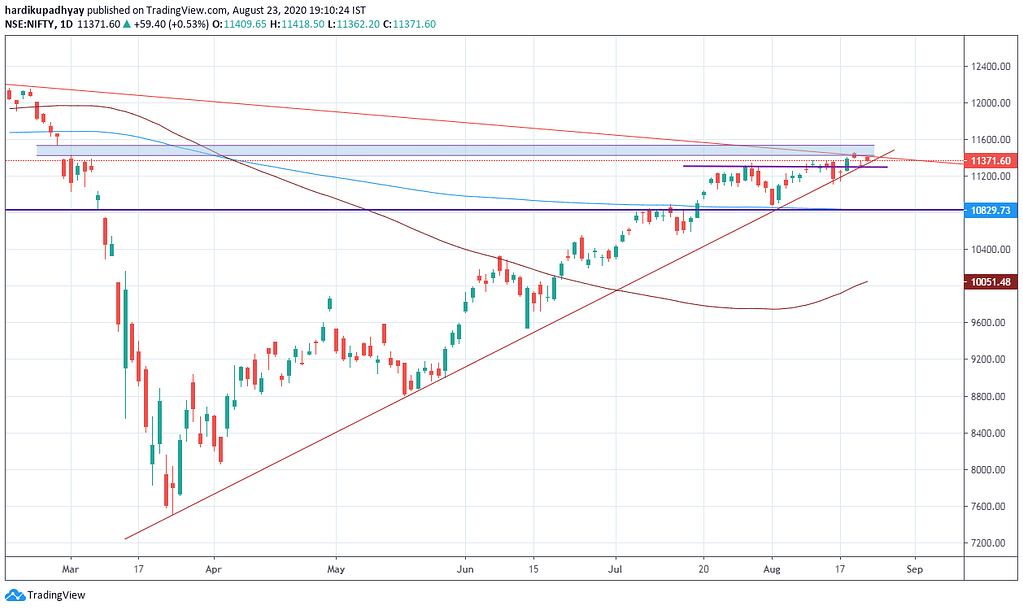 The bulls will have to soon breakout above the recent highs to maintain upward the momentum! The more time it takes to breakout, the higher is the risk of falling down!
As I have been saying since the last couple of issues of the Daily Game Plan that the markets are tired and it's time to be very careful!
Here's the list of potential stocks for tomorrow as my Swing Trading Model! You can choose to enter at the open or at 2-3% intraday correction.

While you are here, you might want to check out the performance review of my strategies for the week ended 21/08/2020.
Have a great day ahead!