Markets took a breather this week!
After a superb two week recovery from September Lows, Nifty saw some correction this week.
Nifty started the week on a strong note and hit an intraday high at 12022 and consolidated at higher levels but gave up all and went down all the way to 11661 before closing the week at 11762.45 or down 1.27%.
So what are the weekly charts suggesting?
Let's find out!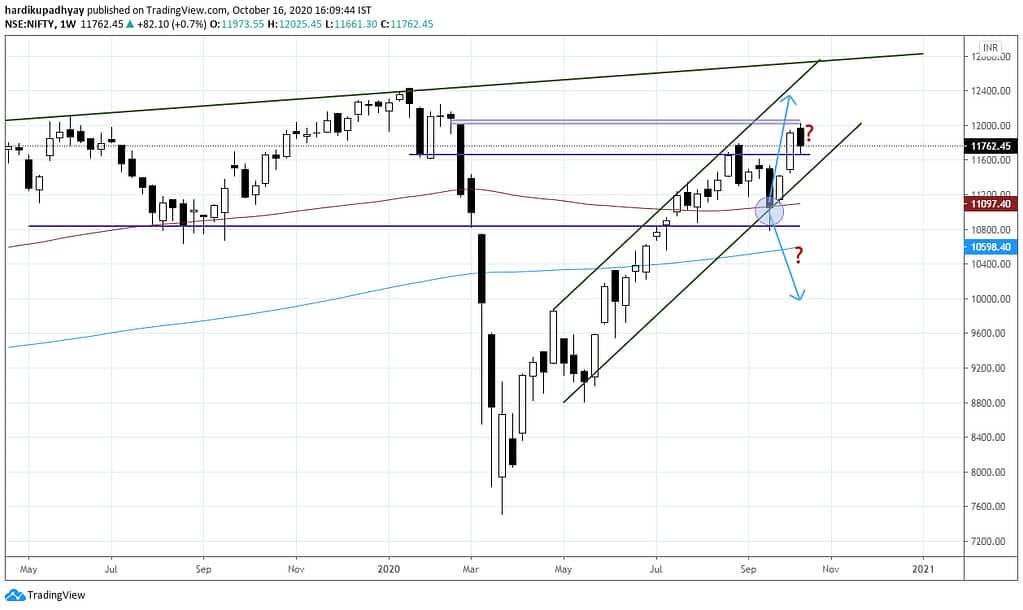 Here are my observations looking at the weekly chart of Nifty…
Nifty made a higher low and followed it through a higher high but found resistance near the 12012-12071 zone where there was an unfilled gap of Feb 20.
Now, there are three scenarios developing…

Nifty breaks through the resistance at 12022 and marches towards 12250-12400 over the next few weeks. There's a high probability of this scenario playing out according to me.
Nifty falls to the lower trendline at around 11485-11500 and then starts to rise again. This scenario is also equally likely as the above.
Nifty breaks the lower trendline. The probability of this happening is very low according to me but you never know. As I had mentioned in my Big Picture Analysis that the month of October is notorious and highly volatile. All the major crashes have happened in the month of October. We are only halfway through the month and it will be interesting to see where we close the month.
Being cautiously optimistic is the best approach over the next few weeks.
How about Nifty Bank?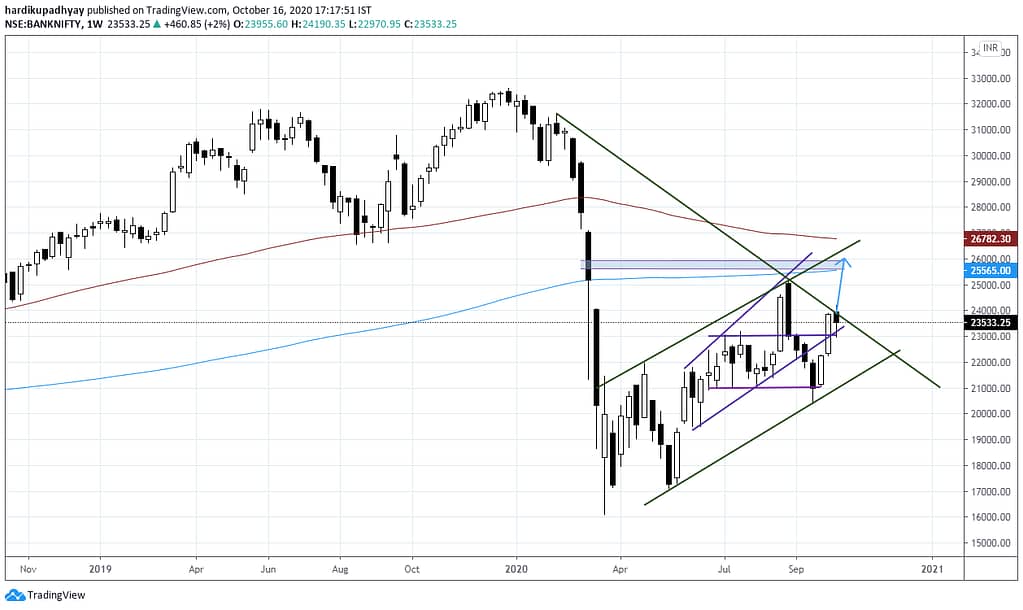 Nifty Bank just flirted with its 200 Day Moving Average and failed to cross the downsloping trendline. But the good news is that it has been able to defend 23000 and bounced up to close the week at 23533.2.
Break below 23000 will be very much negative for Nifty bank.
Putting everything together, the uptrend remains intact over the intermediate term but we may go through some hiccups over the short-term.
Here's the watchlist of the most oversold stocks based on my Mean Reversion ( Swing Trading) Strategy.
It sector has been under pressure throughout the week as we can see from the list of most oversold stocks belonging to IT.
I had three open positions in Wipro (344), Mindtree (1393.05), and TechM (798.95). Out of three, I have squared off Mindtree and TechM as I did not want to carry positions over the weekend. I only have a position open in Wipro which also part of my Dual Momentum Portfolio. Let's see how it fares next week.
Do check out the performance review of my strategies for the week ended 16/10/2020 tomorrow.
Have a great weekend!
P.S:
Here are some great articles I have found for you to read over the weekend.
Enjoy!