Bulls are losing control!
As correctly anticipated in yesterday's Daily Trading Plan…
Nifty is likely to slide down up to the lower downsloping trendline at around the previous swing low at 11185-11100.

Nifty Bank has clearly broken the rising trend line and an 8-day consolidation which shows that the weakness can continue up to 21350-21000.

It's time to be extremely cautious!
Bingo!
Nifty today saw a massive decline of almost 286 points during the day before settling at 11250.55 or 254.4 points down!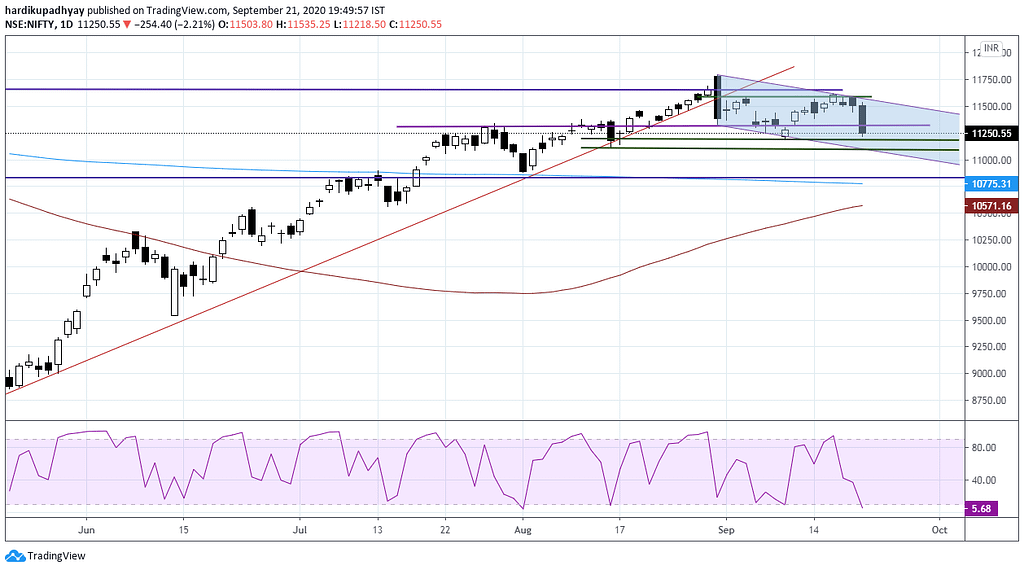 The selling was across the board but the usual suspects were the financials.
So what's next for the markets?
Well, the Nifty is oversold today but I am expecting it to slide down to the very crucial support zone of 11185-11100 before any kind of a meaningful rally.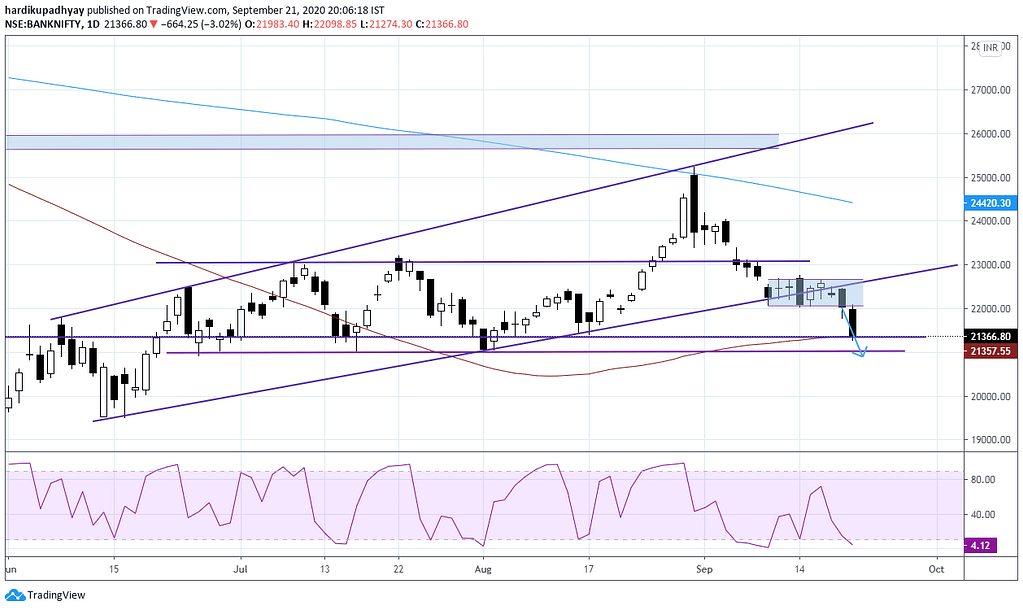 Nifty Bank too is oversold near the very crucial support zone of 21350-21000 from where we should see some kind of relief rally.
So, what should you do?
Well, my best advice is to follow the plan, if you have one in the first place! If you don't, then get one!
Nobody is immune to these kinds of corrections! You can read what I have to say about those deadly drawdowns. I'm no prima bear and I can tell you that I'm fully invested in my momentum portfolios.
I have something called a regime filter to save me if the things were to get really ugly from here on!
Then you might wonder what's the point of these daily chart analysis?
Well, with the daily trading plan, I can anticipate what's likely to happen the next day which in turn reduces the surprise factor as I'm prepared for it in advance. The Daily Trading Plan lends a perspective that helps me to follow my trading strategy.
Anyways, here's the list of most oversold stocks as per my Swing Trading Strategy. You may choose to enter 2-3% below the previous close.
Today, I had two short positions in Dr. Reddy's Labs (5430) & Natco Pharma (912.15). DRL declined by over 5% from my short price while NATCO declined by over 2%.
I have only one open position in TRENT at 666.2 from yesterday's list. Let's see how it fares over the next few days.
Have a profitable day ahead!
*** This is not an investment advice and only for information and educational purposes.