The rally continues!
Have we turned around?
Or is it just the rally in a downtrend?
Let's find out…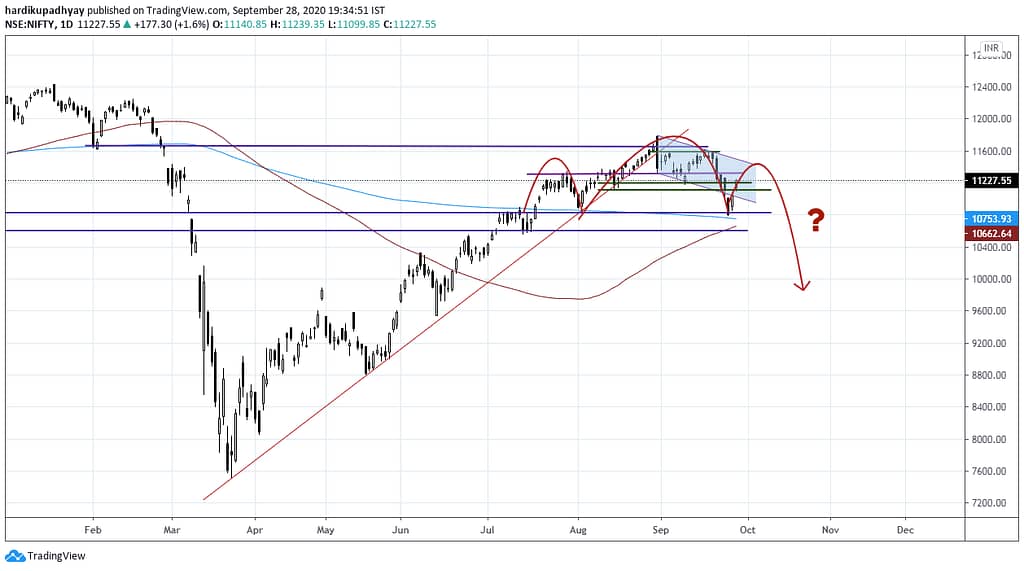 As we can clearly see that the higher high-higher low pattern is broken and now the Nifty is making lower highs and lower lows.
On the daily charts, it looks like the Nifty is forming a giant head and shoulders pattern although it's a little early to say.
Continuing with yesterday's analysis, if the Nifty breaks below 10800, then there's a no bullish argument!
For now, it seems the rally can continue upto 11278-11325 levels!
11475 is the most optimistic scenario!
I wish I'm proven wrong!
Nifty Bank on the hand has closed above its 100 day MA can rally upto 22050 levels!
Please be very careful and don't get carried away with these kind of counter trend rallies!
There are no signals and open positions as far as my Swing trading Strategy is concerned!
Have a great day ahead!
P.S:
If you are interested to know what my Hybrid Strategy is all about, you might wanna listen to Nick Radge's podcast episode on Better Systems Trader. Nick lays out the logic of why you should diversify your capital into various quantitative strategies. Go ahead and check it out!