Bulls are in full control on Dalal Street!
Markets scaled a new peak during the week. The Nifty made an all-time of 15733.6 before ending the week at 15670.25 or up 1.52%. Nifty 500 outpaced Nifty to make an all-time high at 13433.6 before settling the week at 13393.9 or up 2.11%.
Sectorally, Realty, Metals, Energy, CPSE, PSE, INFRA & AUTO to some extent outperformed Nifty while IT, Banks, FMCG & Pharma underperformed. Nifty Small & Mid-Cap indices also hit a new highs during the week.
The IndiaVIX is back to the lowest levels since December 2020. This shows us that there's complacency or rather lack of fear in the markets. But what we know about volatility is that it's mean reverting. Meaning, High Vol period is followed by Low Vol & vice-a versa.
There's nothing to be alarmed here but we should be watchful of the extreme sentiments.
Let's have look at the weekly chart of Nifty,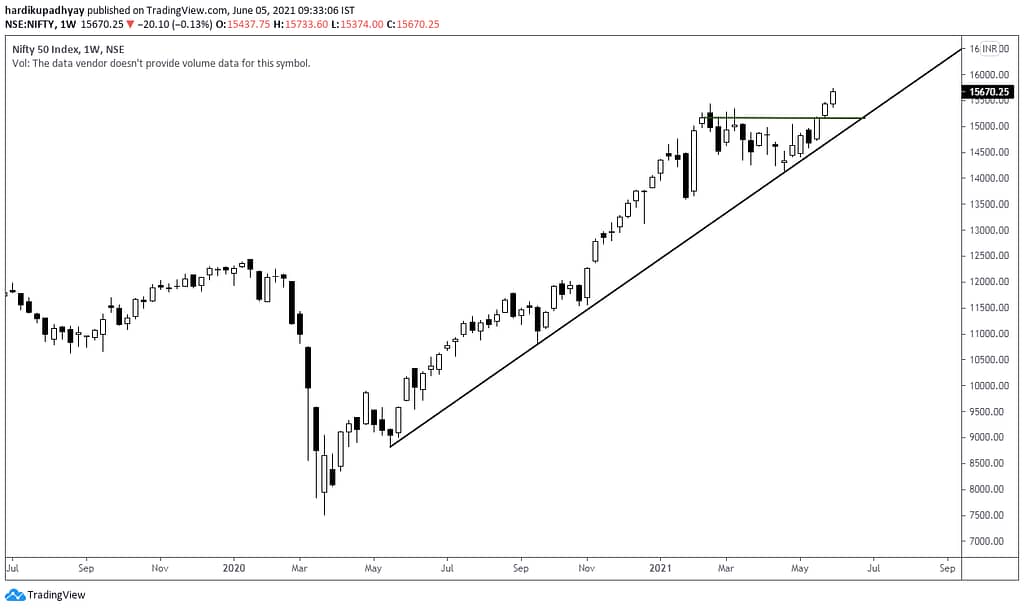 The chart is as bullish as it can be! Nice back to back bullish candle above previous closing high of 15163.3. As long as we're above this level & the rising trendline, the bullish party should continue!
Now, let's have a loot at the below chart…
It's the same chart of Nifty as above but on Log Scale. You can see that Nifty broke the trendline, went sideways and broke out to new ATH. If extend the same trendline in future, it suggest that we're most likely going to hit 16400 or so.
Let's see how that pans out!
For now, the enjoy the party as long as it lasts!
Have a great weekend!
---
P.S:
Last year, when I wrote the Hybrid Approach Guidebook, I was just scratching my own itch so to speak. I wanted to put down my strategy rules, rationale & all other details to help me stick to the plan. I was not even hoping that people would buy it. But I must tell you that how wrong I was. People do pay if you can really provide the value.
The ebook has been well received & many people who implemented have hugely benefited from it. My own performance has been nothing but outstanding.
To celebrate the success & first anniversary, I'm offering 50% OFF on the Hybrid Approach Guidebook. Please use discount code MAY50 at the checkout to activate your 50% discount. The offer ends midnight 15/06/2021!
Click here for more details!
All the best!