Markets are at new highs!
So is the Hybrid Model Portfolio!
This month has been a roller coaster ride for the portfolio.
But all's well that ends well!
Hybrid Investing Approach helps us to take advantage of both Momentum & Mean Reversion characteristics of stocks.
What I simply do is establish a core position of 10 stocks based on Dual Momentum Monthly Rotational Strategy and Scale-in and out of core positions based on my Mean Reversion Strategies so as to reduce our net costs and overall risk.
The best of both worlds, Momentum & Mean reversion!
Let's have a look at the actual 10 stock model portfolio established based on the Hybrid Investing Approach!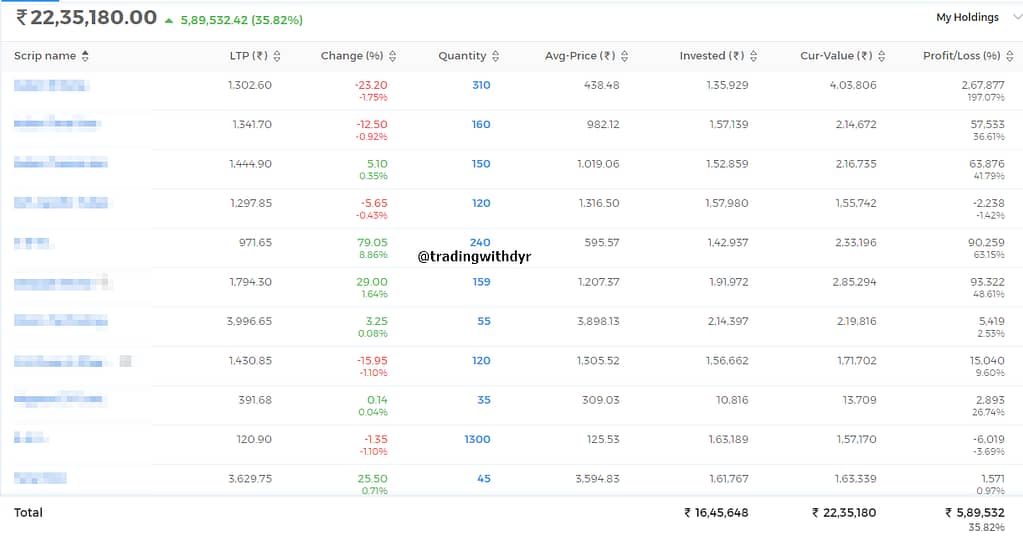 The total portfolio equity at the end of the week stands at an all-time high at Rs. 26,57,532.62 ( 22,35,180 + 4,22,352.62). Overall, the Hybrid Model Portfolio absolute returns stand strong at 85.84% since inception on 30/06/2020 on a total investment of Rs. 14,30,000.
Nifty, during the same period, has risen by 49.83% while the broader Nifty 500 is up by 54.78%. The Hybrid Model portfolio has handily beaten both indices.
During the portfolio performance has been good, it could have been better!
Half of the portfolio has underperformed except for ADANI Group Stocks & CDSL which saved the day for me!
Some of my holdings refused to make any meaningful progress during the month!
Let's see how we perform during the next few weeks!
Until then, have a safe weekend!
---
P.S:
Have you checked out my Hybrid Approach Guidebook? If you haven't, this would be a great time to do so as It's on sale for 50%. Please use discount code MAY50 at the checkout to activate your 50% discount. The offer ends midnight 15/06/2021!
If you've ever been thinking about taking your trading & investments into your hands, this would be a great opportunity to start. Click here for more details.
Thanks!