Indian markets continue to underperform global peers!
But our Hybrid Model Portfolio continues to outperform markets! This week the portfolio has hit a new equity high!
Hybrid Investing Approach helps us to take advantage of both Momentum & Mean Reversion characteristics of stocks.
What I simply do is establish a core position of 10 stocks based on Dual Momentum Monthly Rotational Strategy and Scale-in and out of core positions based on my Mean Reversion Strategies so as to reduce our net costs and overall risk.
The best of both worlds, Momentum & Mean reversion!
Here's the real-time snapshot of the actual 10 stock model portfolio established based on the Hybrid Approach!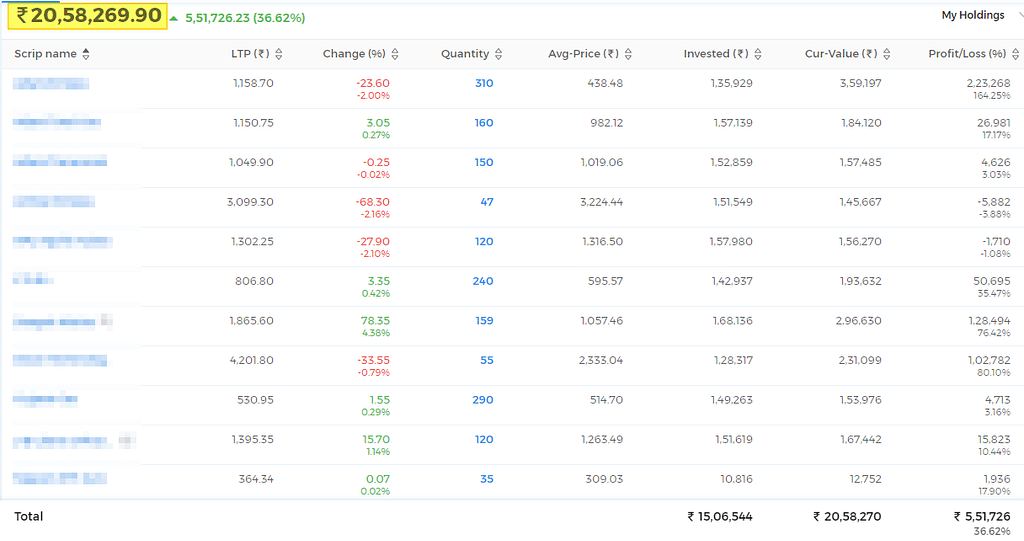 Total portfolio equity at the end of the week stands at an all-time high at Rs. 24,65,447.37 (20,58,269.9 + 4,07,177.47). Overall, the Hybrid Model Portfolio absolute returns stand strong at 72.41% since inception on 30/06/2020 on a total investment of Rs. 14,30,000. Cash as % of the portfolio remains at around 16.52%.
Last week I had explained what the regime filter is for my strategies. If the Nifty is below its 100 DMA at the time of portfolio rebalance, we would reduce either position size or not allow any fresh positions, or both.
Since on the last day of the month, Nifty is above the average, we would continue with our regular positions size.
There are always trade-offs while investing in the markets.
For example, what if Nifty falls below its 100 Day average before the portfolio rebalance takes place. Shouldn't you act on the signal immediately and not wait for the last day of the month?
Yes! We can but that would also increase your portfolio turnover and commissions & slippages. It would increase your efforts to manage the portfolio.
I believe fewer decisions lead to fewer mistakes which leads to better results!
Let's see what's in store for us next week!
Until then stay safe, stay indoors and have a great weekend!