The winning streak continues despite directionless markets!
The Hybrid Model Portfolio has hit a new life time high!
Hybrid Investing Approach helps us to take advantage of both Momentum & Mean Reversion characteristics of stocks.
What I simply do is establish a core position of 10 stocks based on Dual Momentum Monthly Rotational Strategy and Scale-in and out of core positions based on my Mean Reversion Strategies so as to reduce our net costs and overall risk.
The best of both worlds, Momentum & Mean reversion!
Let's have a look at the actual 10 stock model portfolio established based on the Hybrid Investing Approach!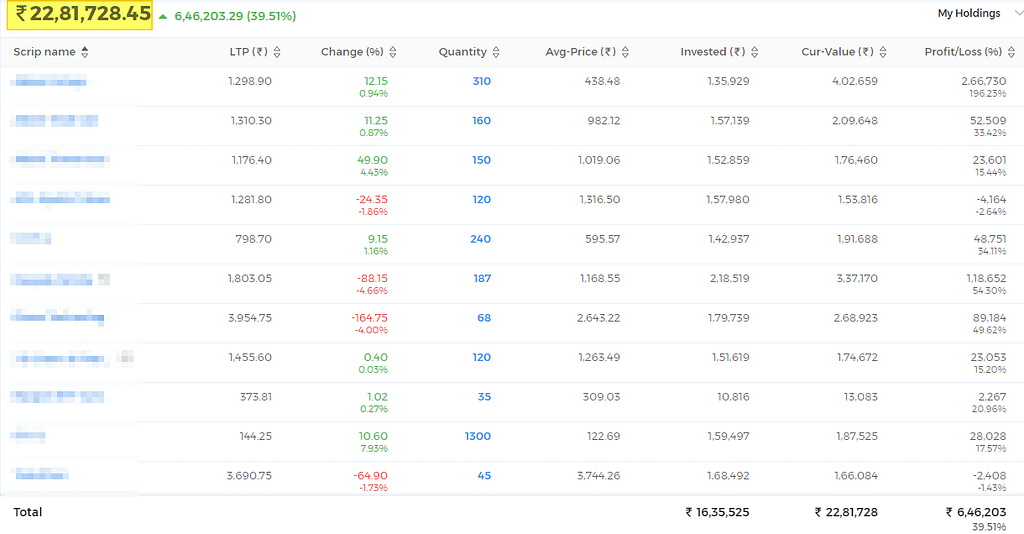 The total portfolio equity at the end of the week stands at an all-time high at Rs. 25,87,907.07 ( 22,81,728.45 + 3,06,178.62). Overall, the Hybrid Model Portfolio absolute returns stand strong at 80.97% since inception on 30/06/2020 on a total investment of Rs. 14,30,000.
Cash as % of the portfolio remains at around 11.83%. There are some open mean reversion trades on my core portfolio stocks which has led to a reduction in cash balance.
Let's have a look at the Industry Composition of the portfolio.
Well, you can see the portfolio is well diversified across various industries.
You can see that the metals have a 30% weight in the portfolio which is the flavor of the market for the last few months.
That's what I like about momentum investing. The sectors & stocks which are stronger gets naturally included in the portfolio. you don't have to pick sectors or stocks. As Nick Radge perfectly observes in his book Unholy Grails…
A momentum investor on the other hand does not pick the stock, but rather stock picks the momentum investor.
Hope the momentum continues!
Have a safe weekend!