Range bound activity continues!
As we have seen the same scenario play out over the last few weeks that markets start the week negative and recovers by the end of the week. This is typical sideways market behavior.
For the week, Nifty settled up 1.31% at 14823.15 while the broader Nifty 500 out performed Nifty to end the week up 1.61% at 12563.1.
The sector participation was strong during the week as almost all the sectors ended up in green. During the week, Metals, PSEs, PSU Banks, IT, Pharma & Auto to some extent outperformed Nifty while Nifty Bank & realty lagged.
There's also strong participation from the small & mid-cap indices. India Vix cooled off by almost 10%.
Let's see what the charts are suggesting?
As we can see in the weekly line chart of the Nifty that it has managed to close up above the minor trendline for the first time in many weeks. But a strong follow-through is required above 14867 where it found resistance this week.
But unless we close above the all-time closing high at 15163.3, the range-bound activity could continue. On the downside, any close below 14341.35 would be hugely negative.
Last week in our Monthly Analysis, we made an interesting observation…
The interesting thing to observe is that the FIIs have been sellers in September 2020 and April 2021 and both months have a similar candle formation.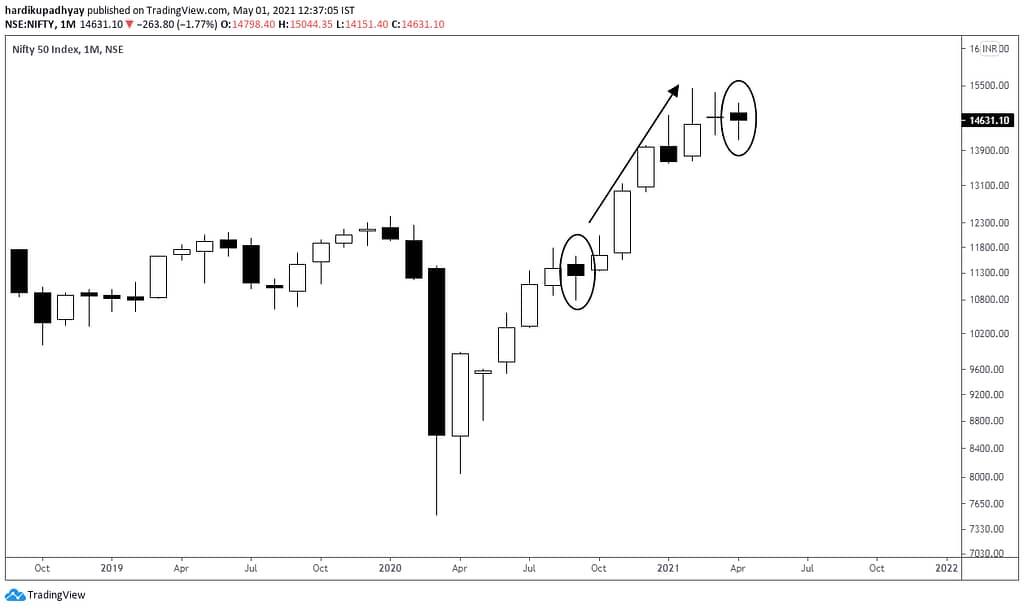 You can clearly see what followed after September 2020 when FIIs started to pump money into the markets. Will the same pattern work out going forward?
The chances are high I would say.
The reason is Dollar Index. The DXY has cooled off quite a bit and is moving towards a January 2021 low of 89.2. I had rightly mentioned in my earlier post on 26/03/2021…
DXY took support near the 89.2 mark in January and has since bounced back up to the demand line which becomes a significant resistance.

At the first look, this appears to be a counter-rally in the bearish trend in DXY. If that's true, then the DXY should turn around from here to 89.2 or so. If DXY is above 91.92, we're in for serious trouble!
The outlook for the week is cautiously optimistic!
Have a safe weekend!