Frustrating times for the bulls!
During the week Nifty tried to break the psychologically important level of 15000 but failed. Nifty closed the week down 0.98% at 14677.8 while Nifty 500 closed the week down 0.72% at 12472.15.
Just as mentioned in my December 2020 article, the Nifty 500 is outperforming Nifty for quite a while now. Looks like a small & mid-cap party is going to continue for some more time.
This was the week of the laggards!
During the week, CPSE, PSE, PSU BANKS, Media, Energy, FMCG, Pharma outperformed Nifty while Metals, Banks, IT & Realty grossly underperformed the Nifty.
So what's really happening here? Whats markets telling us?
In this week money was flowing to low-volatility, defensive sectors from metals, banks & IT. NSE & BSE Low Volatility indices have hit a new high during the week while momentum stocks have taken a breather.
Metal stocks which were the star performers for the last few months have seen some selling. BSE Metals Index is facing significant resistance at 2008 highs.
Crossing 2008 highs looks a daunting task for the Metal Index. Let's see how that unfolds over the coming weeks.
Another interesting thing happening is that the SENSEX is outperforming Nifty. While both are float-adjusted market capitalization indices, Sensex has only 30 stocks and Nifty has 50 stocks. So apple to apple comparison is not what we are trying to do. But both the indices are important & widely tracked, it only makes sense to compare the performance of both.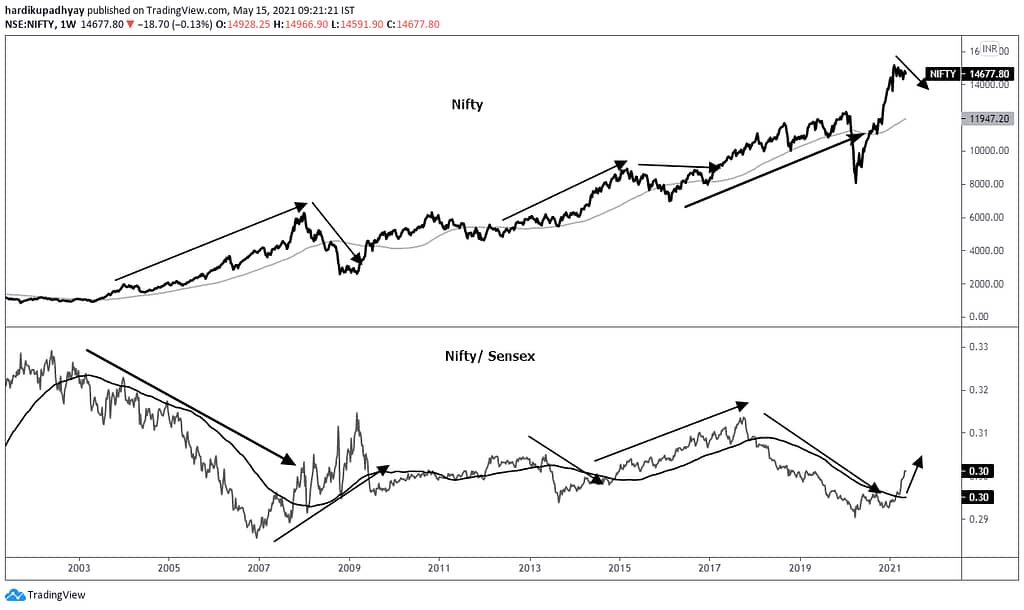 As you can see in the chart above, whenever markets are bullish, the Nifty outperforms Sensex. But when markets start to turn around Sensex seems to outperform the Nifty.
I have no clue why this happens but important thing is that it happens!
Is it a sign of a trouble going ahead? Well, historically that has been true.
We have seen in our monthly Analysis here & here that the major indices are trading at the top end of the trend. Add to that the outperformance of Sensex, Low-volatility indices & defensive sectors, and a seasonally weak month of May. All are pointing towards a correction.
The important levels remain the same as last week for the Nifty. Any break below 14341 would be highly negative while a breakout above 15000 however unlikely, would be considered bullish.
The outlook remains extremely cautious!
Have a safe week ahead!