Well, the moment of truth for the bulls is here!
Market falling off its own weight is how I would describe the price action of the past two weeks.
I had been alerting my readers for the last two weeks that the markets are top-heavy & correction is just around the corner. As mentioned in my previous post…
The chart doesn't look pretty to me! Those two back to back narrow range candles near the upper range of the trend channel could spell trouble for the bulls going forward. If we follow through below 14222.8, we might very well test 13800 or so, to begin with.

Incidentally, around this time last year, a similar structure (red circle) was seen and we very well remember what followed thereon.

I am not prophesying any gloom or doom but the structure definitely calls for caution.
Well, here we are!
Nifty is down just a little over 5% for the week and 2.48% for the month while Nifty 500 declined by 4.65% for the week and 1.87% for the month.
So what's in store for us going forward?
Nifty has formed what I would loosely call an 'Inverted Hammer' on monthly charts which is obviously a reversal candle.
If we follow through below the weekly & monthly low at 13596, we are easily looking towards 12800-13100 where there's a confluence of major supports.
Although, Markets are quite oversold on short-term oscillators. But what I know about oscillators is that they are not reliable at major turning points. Just as the market can remain overbought for long, it can also remain oversold, especially when the trend is about to change.
Budget on Monday will decide the fate of the bulls!
So where do we stand as far as the Hybrid Model Portfolio is concerned?
Here's the real-time snapshot of the actual 10 stock model portfolio established based on the DYR Hybrid Strategy. The Hybrid Strategy is the combination of Dual Momentum Monthly Rotational Strategy and Mean Reversion Long/Short strategies applied together.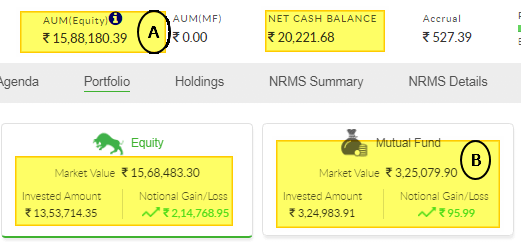 The equity at the end of the week stands at Rs. 19,13,260.39 (A+B) which is down close to 4.63% over the past week. Overall, the Hybrid Model Portfolio return stands at 38.64% since inception.
I had already raised the cash to the tune of 20% of the portfolio anticipating this correction. If the markets go further south from here, the cash will provide some cushion.
Remember, as an investor in the stock markets, we can only manage the risk and can't completely avoid it!
Seasonally, January, February & March are the weak months for the markets. So managing risk during these months is crucial!
Let's see whether the Budget on Monday brings cheer to the bulls or adds fuel to the fire!
Have a great weekend!