What a week it has been!
It was a stellar week for the DYR Strategies even though Nifty was just up 0.35% and the Nifty 500 up 1.2%.
The super performers were the small-cap and mid-cap indices and sectorally it was the week of Pharma & IT.
As I had mentioned in the last week's performance update that the DYR Dual Momentum-Rotational portfolio is 65% invested in small and mid-cap stocks which did very well during the week after SEBI's new asset allocation rules for multi-cap schemes.
It is also important to mention here that the portfolio is overweight on IT, Pharma & Chemicals which all had spectacular gains this week! You can check out the portfolio weights here.
Both versions of the DYR Dual Momentum Strategy performed outstandingly and both rose over 6% for the week.
Here's the performance capsule of the DYR Strategies for the week ended on 18/09/2020.

My Mean Reversion strategies were flat during the week as there were not many opportunities.
Have a look at the equity growth of DYR Strategies…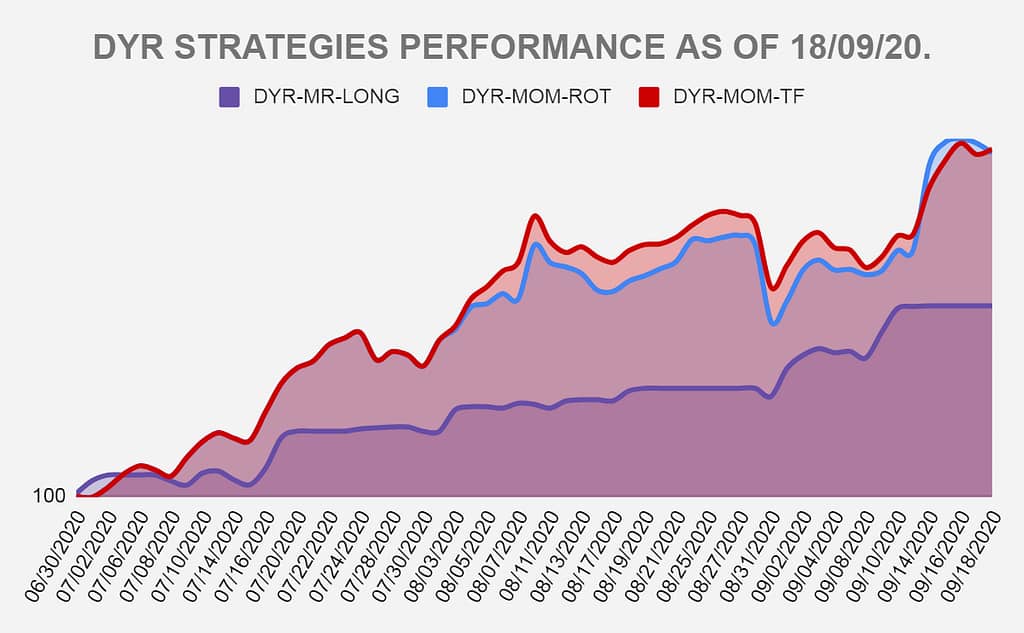 Here's the real time Hybrid Strategy performance since 30/06/2020.
The real-time portfolio is up almost 23% when applied the DYR Dual Momentum-Rotational strategy along with DYR Mean Reversion- Long & Short.
Hope the portfolio performance continues!
Have a great weekend!