After the stellar performance over the last couple of weeks, it looks like Nifty is going to take a breather!
During the week Nifty marginally rose by 0.62% to close the week at an all-time high at 12859.05. While the broader Nifty 500 added 1.15% during the week.
Top sectors during the week were Auto, PSU Banks, Realty, Metals, and Financials. But the market breadth has improved as small-cap and midcap indices also posted nice gains during the week.
IT & Pharma have been laggards during the entire November rally. Nevertheless, they are still the top gainers since March lows.
The above is the comparative chart of the Nifty 50, Nifty Pharma & IT since 23/03/2020. AS you can see that the IT & Pharma has gained 91% & 79% respectively as compared to 69% gain in Nifty.
But from mid-September, Pharma has been underperforming the Nifty while from mid-October, IT has clearly underperformed the Nifty. That's a good sign as more on more sectors are participating and not just the defensives.
Since then, Auto, Metals & Financials have really picked up and participation across mid-cap and the small-cap universe is seen.
My Hybrid Strategy Model Portfolio hasn't been able to make any headway since the last few weeks as the portfolio is still overweight on IT & Pharma.
But I think this will change for good in the next rebalance on the 1st of December 2020 as a more and more diverse set of stocks are popping up in my momentum watchlist.
Here's the real-time snapshot of the actual 10 stock model portfolio established based on the DYR Hybrid Strategy. The Hybrid Strategy is the combination of Dual Momentum Rotational Strategy and Mean Reversion Long/Short strategies applied together.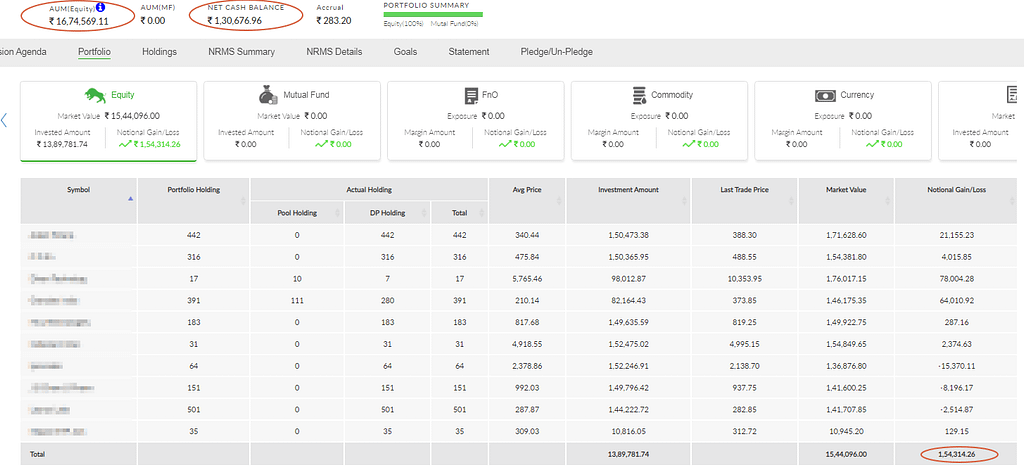 As you can see the portfolio equity is 16,74,569.11 which is almost exactly where it was last week. Overall model portfolio return remains strong at 21.35% since 30/06/2020. I continue to maintain almost 8% cash in the portfolio as a hedge against any volatility going forward.
Let's see how the last week of November plays out!
Have a great day!