Market outlook:
Bulls have lost the grip, at least for now!
Markets were all over the place during the week.
I had warned my readers in the last piece of the impending correction and it just worked out exactly as anticipated…
As you can clearly see that Nifty kissed the upper trendline and engulfed the entire range of the past week. Which definitely is a bearish sign.

I believe the correction will continue over the next few weeks up to at least 14433. Below this level, the correction could steepen!

On a short-term basis though, markets are oversold and we could probably see some bounce back. Unless markets are able to move past the ATH, we are most likely heading south!

There are signs of excess in some portion of the market which need to fizzle out!

The outlook is cautious!
Nifty started the week lower only to stage a strong bounce-back mid-week from oversold levels and gave up all the gains and some more on the last day of the week.
Nifty closed the week 3.02% lower but closed the February month with strong gains of around 6.56%.
There are always culprits to blame for market corrections!
This time it's the US 10 Year Yields!
The last time it was the Dollar! In the future, there'll be something else! There's always going to be some event happening which can rattle the markets!
The point is, none of it matters!
What matters is the price and your process to deal with it! Period.
Prices tell you almost everything! Like how we anticipated this pullback and the one before!
Anyway, let's get back to markets!
For a change, we'll look at the weekly line chart of Nifty!
It's a simple fact that in a very strong bullish trend, any pullback is usually arrested around the previous peak!
If that's true, then 14433.7 becomes the 'Lakshman Rekha'!
Although markets are not as much oversold as would have liked, I believe the bulls will be back in business after a few more days of selling!
The bullish argument is only valid if we are able to maintain 14433.7 on a weekly closing basis!
Let's see where we land up next week!
Here's the real-time snapshot of the actual 10 stock model portfolio established based on the DYR Hybrid Strategy. The Hybrid Strategy is the combination of Dual Momentum Monthly Rotational Strategy and Mean Reversion Long/Short strategies applied together.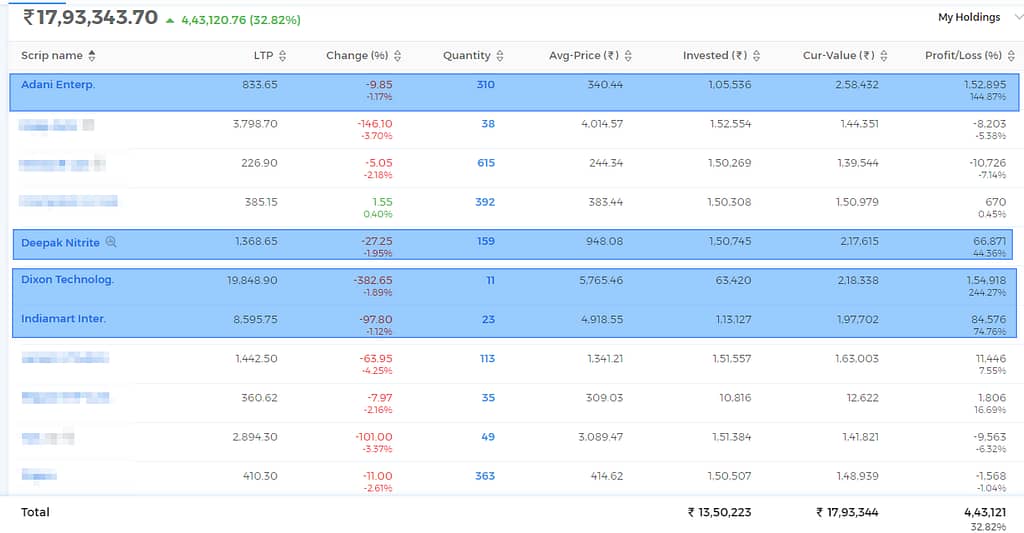 The portfolio equity stands slightly lower than the previous week at Rs. 2185030.04 (1793343.7 + 391686.34). Overall, the Hybrid Model Portfolio return stands solid at 58.33% since inception on 30/06/2020.
The portfolio remains unscathed as of now!
Let's see how we fare going forward!
Have a great weekend!