All you need is one day to completely rattle the markets!
I have been repeatedly cautioning the readers of the Daily Trading Plan of this inevitable correction in the market ever since the large reversal we saw on 31/08/2020. I had clearly mentioned here, here, here & here that it's just a matter of time before we fall up to the 10800-10882 zone and test the 200 DMA!
Although, I was expecting a brief bounce before reaching my targets.
But markets don't give a damn about what I am expecting!
We have to adjust our expectations according to what the market is doing and not the other way round!
Anyway, the Nifty saw its biggest fall today in the last couple of months! Nifty declined by almost 3% to touch the low of 10790 before settling at 10805.55.
So, what's next for the markets?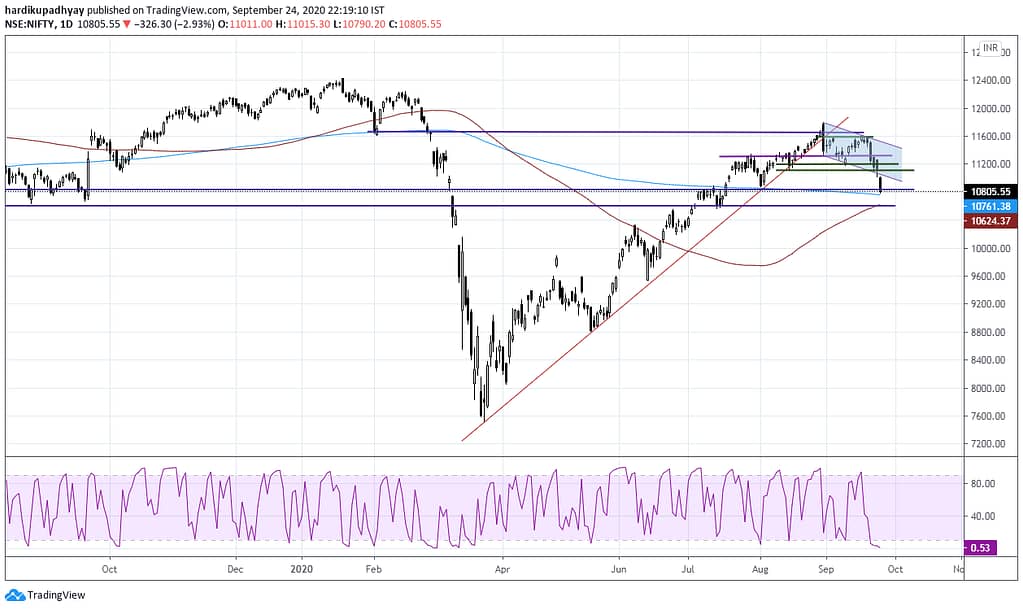 Well, we are clearly in a bear grip but the area of 10762-10624 could prove to be an important zone where the 200 DMA, 100 DMA, September 2019 swing low at 10829 and 23.8% retracement of the entire rally from the March lows to August highs are clustered!
We could expect to see some relief rally from the extreme oversold levels to the 11000-11200 zone!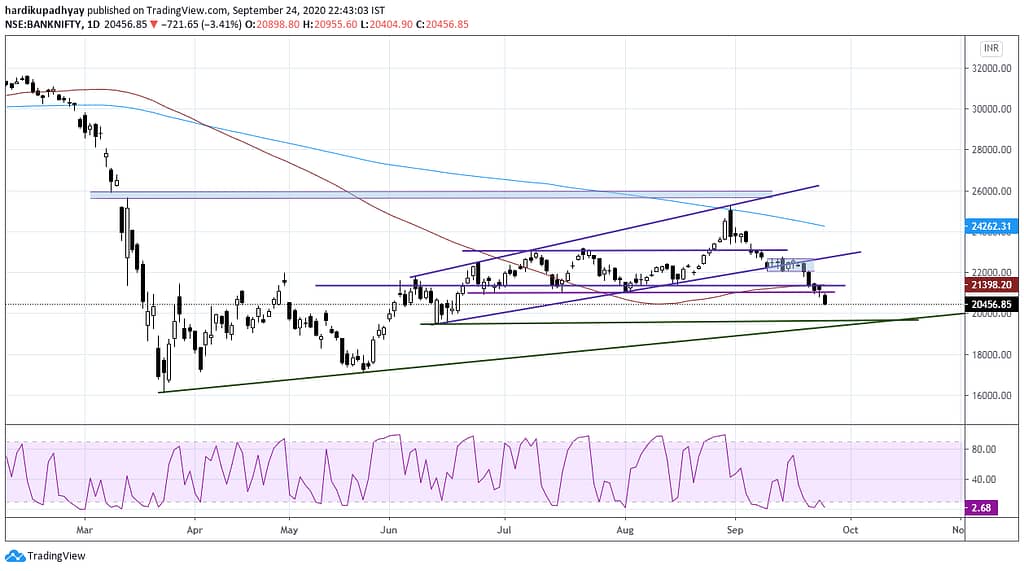 Nifty Bank has also breached important support of 21000 and has opened the doors to the 19500 levels although the bounce back towards 21000-21400 is not ruled out!
Please be very much vigilant!
Here are the most oversold stocks based on my Swing Trading System. You may look to enter on further declines of 2-3%.
I have open positions in TRENT (663.2), ASHOKLEY (71.6), TATA CONSUMER (484.95), MARUTI (6407), INDUSINDBK (513.2) and TATAMOTORS (127.9).
It looks like it's going to be tough week for my Swing Trading Strategies.
Let's see what happens tomorrow which is also the last day of the week!
Have a safe trading day!
*** This is not an investment advice and only for information and educational purposes.